Dutch mull ideas to defend coast from rising seas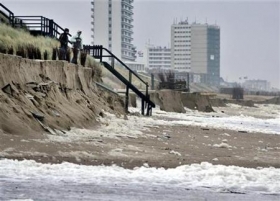 AMSTERDAM (Reuters) - Dutch water experts met on Monday to look at ways of protecting the nation's fragile coast from rising sea levels, including one proposal to build man-made islands -- one in the shape of a massive tulip.
"We will discuss plans that can change the Netherlands forever," Economy Minister Maria van der Hoeven told the meeting at a seaside hotel in Scheveningen overlooking the North Sea.
The talks feature a plan to build an artificial island in the shape of the national flower, inspired by Dubai's Palm Island project, a development in the Gulf in the shape of a palm tree that Dutch dredging companies helped build.
The islands could be used for sporting facilities, housing, agriculture or a nature reserve to relieve space constraints in one of Europe's most densely-populated countries.
Other ideas include equipping flood defences with sensors to monitor sudden changes in water levels due to climate change and how best to use the ecosystem of the North Sea, such as natural sand flows, for flood protection.
In the Netherlands, a quarter of which lies below sea level, people have a long history of clawing back land from the sea and fighting floods. In 1953 a massive North Sea storm breached the country's dikes and resulted in about 1,800 casualties.
Dutch firms have been central in major coastal developments worldwide and U.S. officials sought advice from Dutch experts on water management after floods devastated New Orleans in 2005.
Among the Dutch firms that hope to benefit from the Dutch government's plans are the world's largest dredger Boskalis and its rival Van Oord.
Van Oord said over the weekend it had completed work on "The World," a cluster of artificial islands off the coast of Dubai in the shape of the world's continents which used 320 million cubic metres of sand, equal to a 2-metre-wide, 4-metre-high wall stretching around the world.
(Reporting by Harro ten Wolde, Editing by Matthew Jones)