Egypt warns Palestinians not to breach Gaza border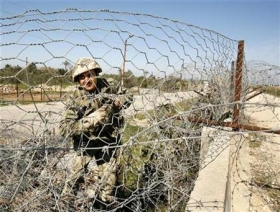 CAIRO (Reuters) - Egypt has warned Palestinians against trying to break through its resealed Gaza border about two weeks after Hamas militants blew it open to defy an Israeli-led blockade.
After allowing hundreds of thousands of Palestinians to cross into the Sinai peninsula last month, Egypt on Sunday closed the border to Palestinians seeking entry.
A day later, one person was killed and dozens more wounded in clashes between Egyptian border guards and Palestinian militants. Security sources said several thousand Palestinians in Egypt would be returned to Gaza in organized groups.
"Whoever breaks the border line will have his foot broken," Foreign Minister Ahmed Aboul Gheit said in comments carried by the state-run Middle East News Agency (MENA) on Thursday.
Aboul Gheit said Egyptian efforts were continuing with Israel and the European Union to re-open the Rafah border crossing "in a legal way," and criticized Hamas for recent fighting with Israel that it called "cartoonish and comical."
Aboul Gheit said Hamas rockets that were "lost in the sands of Israel" were simply giving the Jewish state a chance to strike at Gaza, causing harm to Palestinians.
Earlier this week, About Gheit called on Hamas, which seized control of the Gaza Strip in June, to allow Palestinian Authority personnel to oversee the Egypt-Gaza border at Rafah, and warned Gazans not to test Egypt's patience.
Egypt does not want to be seen as aiding the blockade of Gaza but is under U.S. and Israeli pressure to take control. It also fears the spread of Islamist influence in Egypt.
The Rafah crossing was run by Palestinian President Mahmoud Abbas's forces under EU supervision, with Israeli security agents vetting travelers via video link.
Egypt shut down its side of the terminal after Hamas's takeover of Gaza. Hamas wants a say in running the crossing, but Abbas has rdjected their demand. (Writing by Cynthia Johnston; Editing by Richard Balmforth)