Russia, Ukraine next to trade Kyoto carbon credits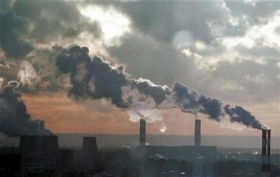 By Michael Szabo
LONDON (Reuters) - Russia and Ukraine will be the next nations to join, within months, only a handful of countries physically connected to a U.N. emissions trading scheme, a senior United Nations official told Reuters on Thursday.
Under the Kyoto Protocol, rich countries need U.N. approval to trade carbon offsets, or credits, to count against their emissions targets.
While futures trading has been flourishing for three years, only Switzerland, Japan and New Zealand are actually approved to take delivery and settle these contracts.
Speaking on condition of anonymity, the official said he expected the next connections within two to three months.
"Russia is preparing to get connected relatively soon... (though the next) may be Ukraine," the official said.
"Some other non-European countries are getting close, but it's difficult to say about their state of entry."
Russia is expected to be a major seller of credits because it has an inefficient energy infrastructure, meaning it can cut carbon emissions quite cheaply and sell credits under a law it only passed last week.
The U.N.'s carbon trading platform, the International Transaction Log (ITL), allows companies from the Kyoto Protocol's 38 developed, 'Annex B' countries to trade carbon credits. But countries need their own registries and U.N. approval before they can link up.
Under the Protocol's Joint Implementation (JI) and Clean Development Mechanism (CDM) programs, rich countries can invest in emissions-cutting projects in developing and former communist nations and count the cuts as their own.
Ukraine, the only country to have received JI credits from the U.N. so far, has 755,851 Emissions Reduction Units (ERUs) which can be traded and physically delivered once the ITL connection is operational.
In late January, Russia's government said JI project developers could now submit applications after its Justice Ministry passed the necessary procedures for the Economy Ministry to approve projects.
Russia and Ukraine are expected to corner the ERU market through 2012 with a potential stockpile of some 400 million tons, more than 80 percent of the estimated total supply, Core Carbon Group's chief climate change officer Morten Prehn Sorensen told Reuters.
At an average ERU price of around 10 euros ($14.62) a ton, this could amount to revenues of some 4 billion euros ($5.85 billion).
EUROPE READY?
The U.N. put the ITL into operation in November. So far only Japan, Switzerland and New Zealand have successfully connected.
Companies participating in the European Union's emissions trading scheme have been trading Kyoto emissions credits via forward contracts for some time, though delivery has not yet been possible as the link between the EU's trading platform, called the CITL, and the U.N. system may be delayed until 2009.
Slovakia received Kyoto trading eligibility this week, though it will have to wait until the 27-nation EU connects as a whole.
Although the European Commission said late last year this could be as late as April 2009, the U.N. official was more optimistic on the target.
"I would definitely expect all Annex B countries to be connected to the ITL by the end of the year, likely even earlier than that," he said.
($1=.6838 Euro)
For additional analysis on CDM & JI projects and global carbon markets, log on to http://www.reutersinteractive.com
(Additional Reporting by Gerard Wynn, Editing by William Hardy)