Illegal pet trade threatens Malagasy tortoises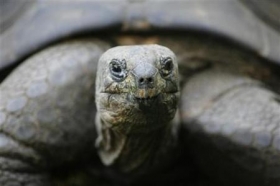 PORT LOUIS (Reuters) - Madagascar's turtles and tortoises are crawling towards extinction, threatened by the illegal pet trade and a local taste for tortoise, the Wildlife Conservation Society (WCS) said.
Evolving in splendid isolation since it broke away from the rest of Africa around 160 million years ago and became the world's fourth largest island, Madagascar has a unique but sometimes threatened biodiversity.
"Five of the nine assessed species (of turtles and tortoise) have been downgraded to critically endangered, with one variety -- the ploughshare tortoise -- now numbering only a few hundred individuals," a WCS statement issued on Thursday said.
The illegal trade in tortoises and turtles is still the largest single threat for several of the species, the statement said.
"Ploughshare, spider and flat-tailed tortoises, along with juvenile radiated tortoises, are particularly coveted by collectors," it said. "Meanwhile adult radiated tortoises are sold for food in regional markets," it added.
Some 85 percent of the large Indian Ocean island's 20 million population were living on less than $2 per day in 2005, according to official data.
(Reporting by Ed Harris; Editing by Tim Pearce)