Coca-Cola seeks more acquisitions to grow business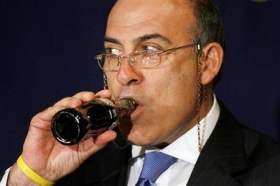 TOKYO (Reuters) - Coca-Cola Co <KO.N>, the world's biggest drinks maker, is seeking more acquisition opportunities in the fast-growing soft drinks market to expand its revenue sources, the company's CEO-in-waiting said on Tuesday.
Sales of established soft drinks are declining in the United States as people opt for the likes of bottled water and tea, which they see as healthier.
"You will see us grow organically as well as through targeted acquisitions," said Coca-Cola Chief Operating Officer Muhtar Kent, who is due to become chief executive officer on July 1.
Kent told reporters at the Foreign Correspondents' Club of Japan that such acquisitions would not be large, and the company was looking from country to country for opportunities, though he didn't specify where.
Coca-Cola, whose rivals include PepsiCo Inc <PEP.N> and Dr Pepper Snapple Group Inc <DPS.N>, has benefited from its recent acquisition of FUZE teas and Glaceau vitamin water, which have helped boost the company's sales.
The Atlanta-based company, which gets 78 percent of its sales abroad, also bought Russian juice maker Multon in 2005 for $500 million.
"There is no better industry, truly we believe, to be in than the non-alcohol beverage business," said Kent.
He added that the soft drinks market was growing faster than most other categories of consumer products such as cosmetics, toiletries and beers.
"We see huge opportunities in every category (of soft drinks)," he said.
Kent also reiterated Coke's long-term targets of increasing annual sales volume by 3 to 4 percent, operating income by 6 to 8 percent and earnings-per-share by a high single-digit percentage rate.
On April 16, Coca-Cola reported a higher-than-expected quarterly profit as strong international growth offset the effects of a weak U.S. economy and flat sales volume at home.
Coke's international business, especially in places like China, India, Brazil and Turkey, has grown more important to investors in recent years as growth slows in mature markets like North America.
On Monday, Coke shares closed up 25 cents, or 0.5 percent, at $56.40 on the New York Stock Exchange.
(Reporting by Mariko Katsumura, Editing by Brent Kininmont)