Field Dispatch: Natural Habitat Antarctica Trip Pt. 2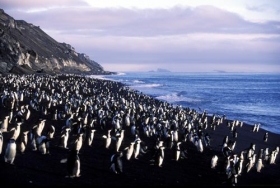 "A bit of bother..."
The last few days have gone by incredibly quickly - it's hard to believe we've been at sea for almost a week. We arrived at the Falkland Islands about a day after leaving the Beagle Channel. We rode our Zodiac boats to our first land excursion on West Point Island, where we visited a very nice rookery of black-browed albatrosses and rock hopper penguins. The rookery was situated on a steep cliff covered with tussock grass.
This type of grass grows up to 6 feet high and offered great shelter from the wind.  Our path allowed us to get quite close to the birds who were not bothered at all. It was an amazing site - watching them and
their young in their natural habitat. These birds live on the
Falklands for the breeding season but spend the rest of the year at sea!
I could have stayed all day, but after about an hour or so of bird watching, a rather strong squall materialized and pelted us with rain, hail, and 50 knot winds. So we pulled our parka hoods tight, and headed back towards the ship. But nearly as soon as it started, it was over, and we stopped at the only homestead on the island to share some delicious tea and cakes with the lovely English couple who were its sole inhabitants.
The following day we dropped anchor in Stanley, the only major settlement and capital of the Falklands. It sure felt like a piece of Great Britain with its red phone booths, double-decker busses, and vehicles driving on the left. After a delightful fish-and-chips lunch we headed back to the Multanovskiy to get a good head start on our long journey to South Georgia.
That was two days ago, and we're still at sea. While en route, we've had several fascinating presentations by the Natural Habitat Adventures staff on seabird biology, Scotia Sea ecology, geology and plate tectonics, the importance of krill (shrimp-like invertebrates) to this ecosystem, and a history of the Falklands. I personally gave a presentation about World Wildlife Fund's worldwide conservation challenges and strategies. We also enjoyed a history of the early Antarctic explorers which was wonderfully delivered by Ernest Shackleton's cousin - Jonathan Shackleton, who is on our trip as our historian. Jonathan is a wonderfully mannered and understated Irishman, who hilariously described his cousin's ordeal on a trip to Antarctica on board the Endurance as "a bit of bother." Never mind that it was one of the greatest human survival stories ever! He is a terrific speaker, and it's a real privilege to accompany him on this voyage.
Between lectures, we've spent a great deal of time on the top deck, bridge, and bow identifying numerous sea birds around us, and even some whale spouts in the distance. We should be able to get better views of the whales as we get closer to South Georgia - I'm quite excited about that. The seabirds are studies in grace - particularly the numerous albatrosses which are just beautiful to watch skimming the waves.
Our days at sea since Tierra del Fuego have been quite rough; we have sometimes rolled a good 20 deg from side to side, which makes standing, walking, and climbing stairs an adventure - especially if one is holding a hot cup of coffee! It's quite impressive that we have not had any burn injuries those first couple days, but I think we're all finally starting to get our sea legs. As far as seasickness goes, I've had a couple minor bouts of nausea, but overall the patch seems to be working quite well. I have never been out on the ocean this far from land and it is an eye-opener what the early explorers might have felt like without all this high-tech gear or accurate maps. Truly inspiring.
So now it's late and I'm off to bed. We will arrive at South Georgia Island tomorrow morning, and its colorful history and spectacular scenery and wildlife will be the subject of my next post.
Read Field Dispatch: Natural Habitat Antarctica Trip Pt. 1
Read Field Dispatch: Natural Habitat Antarctica Trip Pt. 3