Quake rattles southern Greece, no casualties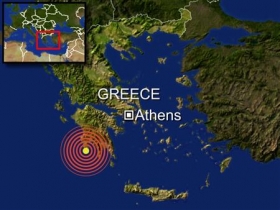 By Karolos Grohmann
ATHENS (Reuters) - An earthquake shook southern Greece just after 12 p.m. (5 a.m. EST) on Thursday and was felt as far away as the Egyptian capital Cairo but there were no reports of casualties.
The Athens Geodynamic Institute said it was off the southern tip of the Peloponnese and measured 6.5 on the Richter scale.
Some two hours later an aftershock, measured at 6.4, hit the same area, the institute said.
The Peloponnese peninsula, south of the capital, and its southern areas are popular holiday destinations among Greeks and foreigners, many of whom own holiday homes there.
Seismologists said the quake struck at a depth of 30 km (19 miles) which minimized the possibility of major damage. The aftershock further minimized the risk of more strong tremors.
"A couple of minutes ago at 1408 (7:08 a.m. EST) a strong aftershock measured at 6.4 hit the same area," seismologist Gerasimos Papadopoulos told reporters. "This confirms that the first tremor was also the main one. I think the nearby inhabited areas are now in no immediate danger."
Residents in the town of Kalamata, in the southern Peloponnese, said they had felt the tremor but it was not as strong as past quakes.
"It was not as strong as other times but we felt it," a local farmer in Kalamata said.
The mayor of the nearby town of Koroni said people had panicked. Other local officials in the area said there was no damage recorded.
The main quake was also felt throughout the capital and lasted at least 15 seconds, witnesses said.
"We were shaken for quite a long time, swaying back and forth," Tanya Spiropoulou from the northern Athens suburb of Marousis said.
Ten days ago another quake measuring 5.4 hit the peninsula near the city of Patras, again causing no damage. In late January an earthquake hit the capital with a magnitude of 5.0.
(Reporting by the Athens Bureau, Writing by Karolos Grohmann; editing by Elizabeth Piper)