German lawmakers ease limits on stem cell research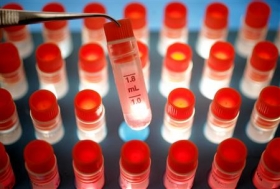 By Kerstin Gehmlich
BERLIN (Reuters) - German lawmakers voted on Friday to ease restrictions on stem cell research although the approved changes did not go as far as many scientists had hoped.
Under the bill approved by the Bundestag lower house of parliament, researchers will be allowed to import stem cells created before May 1, 2007, rather than only use cells existing before 2002, as current law prescribed.
Stem cell research is a divisive issue in Germany, in part due to Nazi genetic experiments linked to creating a "master race."
Scientists say stem cells offer the potential to treat conditions such as diabetes and Parkinson's disease and to regenerate damaged organs. Opponents of the research say it is unethical and involves the destruction of living embryos.
Following an emotionally-charged debate, 346 lawmakers voted in favor of the more recent cut-off date, and 228 against it.
Technology Minister Annette Schavan was among those who had backed the new 2007 deadline, saying Germany had to ensure its scientists could keep up globally.
"I think ... moving the date is right so as to maintain the small corridor for research which the 2002 stem cell law provided," she told parliament ahead of the vote.
Six years ago, the German parliament banned the production of embryonic cells from pre-existing stem cell lines.
To ensure foreign laboratories did not produce cell lines for the German market, it also barred German scientists from working on any lines created after January 1, 2002.
Scientists had complained that German restrictions prevented them from keeping up with global advances and some researchers had called for current restrictions to be scrapped altogether.
German laws are tighter than in some other European countries, including Britain and Sweden, and researchers have expressed frustration that they cannot take part in international projects using lines created after 2002.
The German Research Foundation (DFG) said young scientists were at risk of moving abroad if rules remained too restrictive.
"There are more than 500 cell lines worldwide, but German researchers are only allowed to use 21 old cell lines, which are in part contaminated and have developed in such a way that in some cases they are no longer comparable," DFG vice president Joerg Hinrich Hacker told ZDF television.
Many of those who believe life begins at conception say cells should be harvested from adults, not embryos. The German Bishops' Conference had warned against softening the law.
"Freedom of research must not be weighed against the fundamental protection of life," said Archbishop of Freiburg Robert Zollitsch, who heads the Conference.
German lawmakers on Friday voted against two other, more radical proposals on stem cell research -- one calling for a ban on all embryonic stem cell research, the other suggesting the cut-off date should not only be changed, but scrapped entirely.
(Reporting by Kerstin Gehmlich; Editing by Matthew Jones)