U.N. leader Ban presses Bush on climate change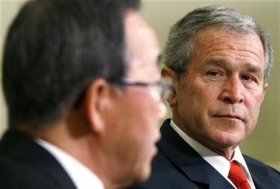 By David Alexander
WASHINGTON (Reuters) - U.N. Secretary-General Ban Ki-moon on Friday pressed President George W. Bush to take more of a leadership role in negotiations on a new global pact to fight global warming.
The United States, which has been a reluctant partner in climate diplomacy under Bush, abruptly reversed course at climate change talks in Bali, Indonesia, in December and joined 190 nations in agreeing to negotiate a new accord by late 2009.
"It would be ... very much important for the international community to sustain the momentum established in Bali, December last year, in climate change," Ban told Bush after an Oval Office meeting.
He said the United States, with its innovative technologies and financial capabilities, had a critical role to play in advancing the globally accepted framework from the Bali summit.
"I count on your leadership and active participation," Ban told a nodding Bush. "I do appreciate your constructive engagement in this. ... I count on your leadership."
Bush pulled the United States out of the Kyoto climate protocol shortly after he took office, saying it was fundamentally flawed, and has been reluctant to agree to any deal that exempts developing nations from curbs on emissions of greenhouse gases believed to cause global warming.
The Kyoto agreement bound industrial countries to cut emissions of greenhouse gases between 2008 and 2012, but it exempted developing nations.
The negotiations agreed to at Bali seek to bind all countries to emission curbs from 2013. The United States initially opposed the agreement but reversed course at the last minute.
The United States is a leading emitter of greenhouse gases, along with developing nations like China and India.
(Editing by Vicki Allen)