Boeing faces customer ire for 787 delays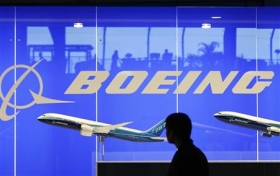 By Koh Gui Qing and Daryl Loo
SINGAPORE (Reuters) - Boeing Co <BA.N> is facing growing anger from its biggest customers for delays in its new 787 Dreamliner, but still unveiled more than $6 billion in orders for other planes at the Singapore Airshow on Tuesday.
Indonesian carrier Lion Air ordered an additional 56 737-900ER planes, worth $4.4 billion at list prices, in the largest confirmed order for the planemaker, which is trying to manage fallout from the repeated Dreamliner delays.
International Lease Finance Corp (ILFC), the world's top plane leasing firm, said it will seek large compensation from Boeing for the delays, which will push its Dreamliner deliveries back by between 9-12 months to late 2010 or early 2011.
ILFC is the biggest buyer of Boeing's 787, with 74 of the fuel-efficient jets on order, but the planemaker announced last month that the plane has hit a second delay, pushing first deliveries out until early 2009.
"We've put Boeing on notice that there will be some very serious talks," Steven Udvar-Hazy, chief executive of ILFC, told Reuters. When asked if ILFC will seek compensation, he said: "Definitely, on a large scale."
Airlines including Japan's All Nippon Airways <9202.T> -- due to be the first to take delivery of the aircraft -- Australia's Qantas <QAN.AX>, and Air India <AI.UL> have said they will consider seeking compensation, which could cost Boeing billions of dollars.
Airlines have so far ordered 857 of the planes, worth $140 billion at list prices.
"It's not only the impact on us, it's the impact on our leasee -- the airlines," Hazy said, adding that 15-20 of ILFC's 787 orders are expected to be affected by the delay.
Hazy said the ILFC has already leased the 787 jets to various airlines, and that the value of each Boeing 787 lease deal is worth about $1 million a month.
"We really feel for our customers, we hate missing those commitments," Randy Tinseth, Vice President of Marketing for Boeing Commercial Airplanes, told Reuters at the airshow.
Boeing, the world's top aircraft maker, was not able to say if the last delay, which it attributed to issues with its suppliers, would be the final one.
"We are now in a position with our suppliers where parts are manageable, so we have a confidence in our plans. But it's not going to be easy," Tinseth said.
NEW ORDERS
Boeing continued to win new orders for its aircraft at the airshow, but not for the 787.
Lion Air's latest deal took the carrier's total orders for the 737-900ER to 178 by 2015, which will make it the largest operator of such planes in the world.
Garuda Indonesia said it plans to convert an order for six Boeing 777-200 planes to an order for 10 Boeing 777-300ER craft, an order worth more than $2 billion at list prices.
ILFC, a unit of the American International Group Inc <AIG.N>, is also in talks with Boeing and Airbus <EAD.PA> to buy over 100 jets from each plane maker, Hazy said.
"It's well over 100 on each side," he said, adding the purchases were worth billions of dollars, but declined to say when the deals will be completed.
Boeing's problems with the 787 mirror those of Airbus, whose A380, the world's largest passenger jet, was delayed two years before the first delivery last October to Singapore Airlines <SIAL.SI>.
(Additional reporting by Jan Dahinten, editing by Neil Chatterjee and Lincoln Feast)