Researchers Invent Eco-Friendly Hypersonic Jet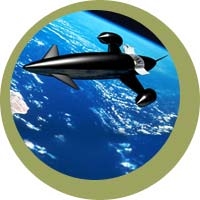 Feel like heading off from Jersey for a croissant breakfast in Paris, then returning home in time to meet your friends at a local pizza shop for lunch? How about an overnight stay at a B&B in Sydney Harbor, where you can keep a lookout for sharks from your bedroom window? Or, if you're in the mood for a cross-country jump from LaGuardia to LAX, you could be California Dreamin' in mere minutes – though it'll probably take twice as long to cut through all that traffic en route to your hotel.
We're not talking teleportation yet, but here's the next best thing: The A2 jet, a hypersonic plane that could fly at speeds of more than 3,000 miles per hour. The plane will rely on a liquid hydrogen engine, which, surprisingly, is far more environmentally friendly than conventional fuel, emitting only water vapor and nitrous oxide.
The super-speedy aircraft is being developed by an English firm called Reaction Engines, which mainly focuses on the arena of space transport. This new plane may be a step down for them, but it'll certainly be a big jump for those of us who aren't planning a trip aboard the new Virgin Galactic vessel anytime soon. Don't expect to buy a ticket just yet, though – the company's managing director, Alan Bond, claims we're not likely to see such planes available for commercial flights for another 25 years.
By all accounts, it's definitely worth waiting for: "The flight time from Brussels to Australia, allowing for air traffic control, would be four hours 40 minutes," Bond told The Guardian. "It sounds incredible by today's standards but I don't see why future generations can't make day trips to Australasia."
If that still seems like a lot to you, keep in mind that current flights take about 18 and a half hours, not including layovers. We've seen plenty of clean-shaven Europeans turn into bushy-bearded backpackers by the time they finally make it down to Oz. With these new flights, we suspect there won't even be a chance to grow any peach fuzz.