Brazil urges rich to fund environment reform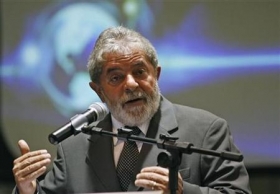 BRASILIA (Reuters) - Brazilian President Luiz Inacio Lula da Silva urged developed countries on Thursday to finance measures by poor nations to protect the environment and reduce emissions that cause global warming.
Lula was speaking to lawmakers from major industrial nations and emerging countries gathered in Brasilia, Brazil's capital, to discuss global warming and give direction to a post-Kyoto Protocol accord.
"Kyoto (protocol) cannot be a fiction piece. It's easy to sign a document and frame it. It's easy for the rich countries to attribute to the poor countries the environmental problems," Lula said in his speech.
"It's necessary to take to the G8 that rich countries consume 80 percent of the natural resources of the planet. They have to pay a trade-off to poor countries for them to conserve the environment," he added.
Lula has argued that rich countries are responsible for 60 percent of greenhouse gas emissions and therefore need to shoulder the responsibility. Yet Brazil is the world's fourth-largest producer of greenhouse gases, virtually all of it as a result of deforestation.
The meeting of 100 lawmakers includes the Group of 8 industrial countries -- Britain, the United States, France, Germany, Italy, Russia, Canada and Japan -- and fast-developing nations China, Brazil, India, South Africa and Mexico.
The Kyoto protocol was aimed at traditionally industrial powers and their emissions and did not target emerging economies like China and India.
The post Kyoto agreement that is being negotiated will require all countries to guarantee cuts in all forms of greenhouse emissions.
(Reporting by Mair Pena Neto, Writing by Inae Riveras; editing by Stuart Grudgings)