Petroplus, private equity firms to acquire in U.S.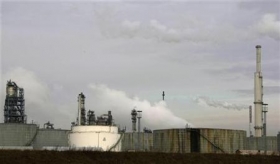 ZURICH (Reuters) - Petroplus Holdings AG <PPHN.VX> has agreed a $2 billion deal with private equity firms Blackstone Group <BX.N> and First Reserve to acquire crude oil refineries in the United States.
Zurich-listed Petroplus said on Wednesday each partner has committed $667 million in equity to the venture.
"This investment vehicle gives Petroplus accretive expansion opportunities, without the need to significantly lever up the balance sheet," Petroplus said.
Acquisition-hungry Petroplus said earlier this month that its full-year net profit more than quadrupled to $310.4 million, helped by purchases of new refineries.
Thomas O'Malley, chairman of Petroplus, will act as the chief executive of the partnership.
The venture should allow Petroplus to add to earnings per share and free cash flows, Petroplus said.
O'Malley has presided over a period of rapid expansion at the firm, taking it onto the Zurich stock exchange and buying a string of refineries to expand operations from Belgium to Britain, Switzerland, Germany and France.
Petroplus has been at the forefront of a boom of smaller independent refiners not affiliated to the global major oil producing company like Royal Dutch Shell Plc <RDSa.L>, BP Plc <BP.L> and Exxon Mobil Corp <XOM.N>.
O'Malley was a key figure in the boom of the surge of the independents in the United States -- a forerunner of what is happening in Europe -- building up Premcor and Tosco Corp before they were sold to bigger rivals Valero Energy Corp <VLO.N> and Phillips Petroleum respectively.
(Reporting by Yinka Adegoke in New York and Douwe Miedema in Zurich; Editing by Jan Dahinten)