Rice tells Olmert she is concerned about Gaza civilians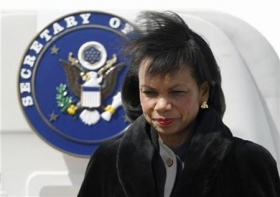 By Arshad Mohammed
TOKYO (Reuters) - U.S. Secretary of State Condoleezza Rice voiced concern on Thursday about Palestinian civilians killed by Israeli attacks in the Gaza Strip, but stopped short of an explicit call for Israel to exercise restraint.
A surge in Israeli-Palestinian violence along the border of Gaza has raised fears of a full-scale conflict amid public pressure on Israeli President Ehud Olmert for tougher military action to deal with rocket attacks by Islamic group Hamas.
A rocket launched from the Hamas-run Gaza Strip killed a man in Israel on Wednesday, the first such death in nine months, and Israeli air strikes killed six Palestinian militants and five civilians in the territory.
Rice, who met Olmert in Tokyo on Thursday, will visit Israel and the Palestinian territories next week to try to push along U.S.-brokered peace talks complicated by the growing violence.
Asked if she had urged Olmert not to use disproportionate force in responding to rocket attacks from Gaza, Rice told reporters: "I think that's not a good way to address this issue. The issue is that the attacks -- rocket attacks need to stop."
She said she had reiterated to Olmert U.S. concerns for the humanitarian situation.
"I am concerned about the humanitarian condition there and innocent people in the Gaza who are being hurt. We have to remember that the Hamas activities there are responsible for what has happened in Gaza ... But, of course, we are concerned about innocent people and we are concerned about the humanitarian situation," she said after the one-hour breakfast meeting.
As well as targeting armed men on the ground, Israel's air force bombed the Hamas-run Interior Ministry, witnesses said on Wednesday. The blast damaged nearby buildings, killing a six-month-old baby and wounding at least 14 other people, hospital officials said.
The mounting violence could complicate the peace talks between Israel and President Mahmoud Abbas's Palestinian Authority, which Washington hopes can lead to a deal on statehood this year.
Rice was wrapping up an Asian visit that took her to Seoul for the inauguration of South Korean President Lee Myung-bak, and then to Beijing and Tokyo before heading back to Washington.
(Reporting by Arshad Mohammed; Writing by Linda Sieg; Editing by Sanjeev Miglani)