D.Telekom meets expectations, confirms outlook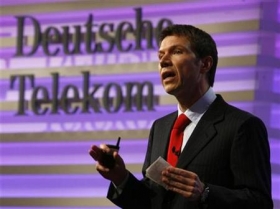 FRANKFURT (Reuters) - Deutsche Telekom <DTEGn.DE> posted flat first-quarter core profit, in line with expectations, as revenues at its fixed-line and broadband unit declined.
Adjusted earnings before interest, taxes, depreciation and amortization (EBITDA) were 4.7 billion euros ($7.28 billion) on sales of 15 billion, down 3.1 percent, the company said in a statement on Thursday.
Analysts had on average seen adjusted EBITDA at 4.6 billion euros and sales at 15.1 billion, according to a Reuters poll.
"Over the first three months of this year we laid strong foundations for the rest of the year," Chief Executive Rene Obermann said.
Deutsche Telekom confirmed its outlook of a core profit of around 19.3 billion euros this year and free cash flow of 6.6 billion euros.
Like other former incumbent operators, Deutsche Telekom is struggling to compensate losses at traditional fixed-line connections by boosting its DSL broadband business amid falling prices and increased customer demand for flat-rate plans.
The Bonn-based company said the number of its fixed lines in Germany decreased by 582,000 in the first quarter. New DSL broadband customers came to 539,000 in that period.
Deutsche Telekom's most profitable unit, T-Mobile -- which competes with Vodafone <VOD.L>, Dutch KPN's <KPN.AS> German unit E-Plus and Telefonica <TEF.MC>'s O2 in its domestic market -- saw revenue decline 3.4 percent in Germany to 1.9 billion euros.
T-Mobile's adjusted EBITDA in Germany fell 1.1 percent to 692 million euros. Deutsche Telekom said fierce price wars in Germany had impacted T-Mobile's results at home.
Abroad, T-Mobile USA was hit by currency effects as was T-Mobile UK.
Deutsche Telekom generates more than half of group revenue abroad.
(Reporting by Nicola Leske)