Don't send elephants to Manila urges animal group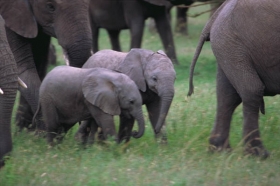 NAIROBI (Reuters) - An animal rights group appealed to Tanzania on Thursday to stop the transfer of elephants and giraffes to a zoo in the Philippines in exchange for crocodiles.
"You are probably unaware that the animals at the Manila Zoo are housed in cramped, barren cages and are forced to endure sweltering heat with little relief," said the People for the Ethical Treatment of Animals (PETA).
"All confined animals suffer from profound boredom -- some so severely that it can lead to self-mutilation and other self-destructive behaviour," it said in a letter to Tanzanian President Jakaya Kikwete.
The group did not give further details of the exchange it said it was trying to prevent. Tanzanian officials and Manila Zoo were not immediately available for comment.
Tanzania is renowned worldwide for vast parks such as Serengeti National Park, which alone has an area of about 14,800 square km (5,700 sq mile) and an annual mass migration of about 1 million wildebeest and 200,000 zebras.
(Reporting by George Obulutsa, editing by Jack Kimball)