Apple shares rise on optimism over iPhone demand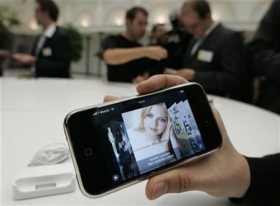 SAN FRANCISCO (Reuters) - Shares of Apple Inc <AAPL.O> rose as much as 5 percent on Thursday on optimism that the maker of the iPod and iPhone can overcome an economic slowdown and as it prepares to give details next week on how outside programmers can develop software for the iPhone.
The shares were up $5.29, or 4.4 percent, to $128.35 in late morning trade on Nasdaq, a bright contrast to slumping broader markets weighed down by mounting U.S. recession fears. Earlier the stock traded as high as $129.21.
The gains come one day after Apple affirmed its iPhone sales goal for this year and promised to give details of how outside programmers can create software for the device. The move is expected to spur demand for the Web-browsing and media-playing mobile phone.
Goldman Sachs analyst David Bailey, after a meeting with Apple Chief Operating Officer Tim Cook on Wednesday, said he continues to believe that "Apple's industry-leading product cycles should help it overcome softer seasonality and sets the stock up for a strong second half."
Although the shares have risen over the past two trading sessions, they are still a long way from recouping a 30 percent decline over the past three months. Investors have soured somewhat on Apple amid concerns that a slowing economy could hit sales of its Mac computers, iPods and iPhones.
Apple also said it will unveil new iPhone features aimed at businesses, potentially stepping up competition with Research In Motion Ltd's <RIM.TO> popular BlackBerry devices.
Apple will detail the software road map for the iPhone on March 6 at its Cupertino, California, headquarters, the company said in an invitation sent to reporters.
When Apple launched the iPhone last June, it only allowed outside software developers to make Web-based programs, not ones that could be installed on the device itself.
Apple is likely to announce improvements that could spur more businesses to use the iPhone as a company phone, American Technology Research analyst Shaw Wu said in a client note on Thursday, citing industry and developer sources.
"While near-term trends look difficult with a looming recession and a slowdown in consumer spending, we continue to believe Apple is well positioned to weather the storm better than most with its strong fundamentals," Wu said.
UBS analyst Ben Reitzes wrote in a note to clients on Thursday that a new software developer kit, which programmers use to create new applications, from Apple would likely spur adoption of the iPhone by corporations.
"We believe new features could help address issues that are limiting iPhone penetration in the enterprise, including compatibility with Microsoft (Corp <MSFT.O>)" email software used by big businesses, the analyst wrote.
Reitzes also said he expects more advanced next-generation, or 3G, iPhones by mid-year in different configurations, with new international carriers as well.
(Additional reporting by Franklin Paul in New York)
(Reporting by Duncan Martell; editing by John Wallace)