Senate shelves Iraq U.S. troop withdrawal bill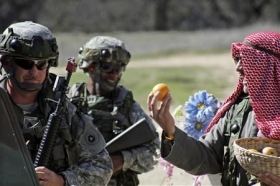 By Richard Cowan
WASHINGTON (Reuters) - A liberal Democrat's attempt to impose quick U.S. troop withdrawals from Iraq collapsed in the U.S. Senate, as expected, but leaders on Thursday insisted they will retool legislation and force votes in coming months.
The Senate spent much of this week debating a plan by Sen. Russ Feingold of Wisconsin to begin withdrawing most American troops from Iraq by July.
His effort, like one last December, faced deep opposition in the chamber, where members have repeatedly blocked steps to impose timetables for winding down a war that is entering its sixth year.
Senate leaders pulled the bill from debate when it was obvious there was not support for passage.
"We'll be back. There are a number of things we're considering," Senate Majority Leader Harry Reid, a Nevada Democrat, told reporters in acknowledging Feingold's measure was doomed.
In a month or so, Congress is expected to begin debating President George W. Bush's request for more money for the Iraq and Afghanistan wars. In the past, Democrats have tried to tie conditions to the funds, including withdrawal timetables.
The next congressional debate on the Iraq war could come in April or May as the U.S. presidential campaigns intensify. By then, Sen. John McCain of Arizona, an Iraq war advocate, likely will have nailed down his spot as the Republican Party's presidential nominee.
And Democrats may have decided whether Illinois Sen. Barack Obama, an opponent of the war, or New York Sen. Hillary Clinton, who voted for the war but now opposes it, will be their presidential nominee.
Republicans used this week's Senate floor debate to highlight progress of Bush's troop surge, which has quelled violence even as Iraq's political leaders continue to face difficult challenges.
The White House warned it would veto the troop-withdrawal legislation, sticking with its argument that Congress should not impose any artificial timetables on the war, which has resulted in the deaths of nearly 4,000 U.S. troops.
The White House also threatened to veto another Feingold bill pending in the Senate that would require the administration to craft, within 60 days, a new plan for defeating al Qaeda, which is accused of the September 11 attacks on the United States.
The administration said the measure could impose constraints on the U.S. military "hindering the flexibility of our commanders."
Reid also said a Senate panel will investigate fraud and waste in contracts awarded to private firms working in Iraq. He added that senators are looking at other measures to rein in the war and the huge debt it has placed on the U.S. treasury.
Democrats, who control the Senate, increasingly are tying the war to domestic economic problems, which are high on voters' minds this year.
Nobel Prize winner Joseph Stiglitz, a Columbia University economics professor and former advisor to President Bill Clinton, told a congressional panel on Thursday that the war has contributed to substantially higher oil prices and required more foreign borrowing by the United States since Bush and the Congress have not raised taxes or cut spending to pay for the combat.
(Editing by Philip Barbara)