United States cuts aid to Bosnian Serb ruling party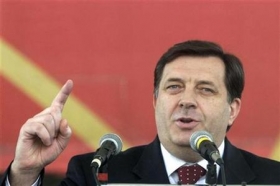 SARAJEVO (Reuters) - The U.S. government has cut development aid to the political party of Bosnian Serb Prime Minister Milorad Dodik because of its nationalist policy, the U.S. embassy in Sarajevo said in a statement on Tuesday.
The Alliance of Independent Social Democrats (SNSD) is no longer eligible for the financial assistance by the U.S. Agency for International Development (USAID) through programs implemented with two U.S.-based institutes, the embassy said.
It would not comment further on how much aid Washington had given to the party, whose leader the West regarded as moderate until he adopted a nationalist stance for elections two years ago.
"The U.S. government does not provide financial or technical support to any ethnically based, nationalist political parties in Bosnia-Herzegovina," the statement said.
"Their agendas are inconsistent with Bosnia's Euro-Atlantic path," it said, adding that SNSD's actions and statements have not contributed to moving the Balkan country forwards.
"They ... have undermined state-level institutions."
SNSD is the ruling party in the Serb Republic, which under the 1995 Dayton peace accords shares Bosnia with the Muslim-Croat federation in an uneasy co-existence.
While the Bosnian Muslims and Croats want a stronger central state able to lead Bosnia towards the European Union, Dodik and other Serb leaders want to keep the high autonomy of their region and tighten links with their wartime ally Serbia.
Igor Radojicic, the SNSD secretary general, said the U.S. decision was politically motivated.
"No political party from the Serb Republic is now receiving assistance from the U.S. agencies, while the parties from the (Muslim-Croat) federation are getting it," he told reporters in the Bosnian Serb stronghold of Banja Luka.
He said the U.S. agencies had been helping SNSD organize seminars and provide education for the party members.
Bosnian Serbs have protested against Kosovo's secession from Serbia in the past weeks and tried several times to attack the U.S. consulate in Banja Luka.
The Serb Republic parliament has also threatened to hold a referendum of secession from Bosnia if a majority of U.N. and EU member states recognized Kosovo as independent.
(Reporting by Daria Sito-Sucic, additional reporting by Mirna Soja in Banja Luka)