Electronics greener, but long way to go: Greenpeace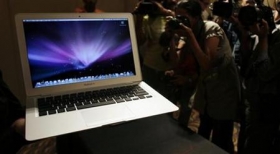 HANOVER, Germany (Reuters) - Consumer electronics are becoming greener, but manufacturers still have a long way to go to eliminate hazardous substances from computers and mobile phones and make them more energy efficient, Greenpeace said.
In a survey published at the CeBIT information technology fair in Hanover on Wednesday, Greenpeace praised notebooks and mobile phones from Sony, Sony Ericsson, Nokia and Apple.
"We have already witnessed the arrival of greener products in the market, such as Apple's new laptop, the MacBook Air, and Nokia's new phone, the Evolve," Greenpeace international toxics campaigner Yannick Vicaire said.
"Manufacturers still have a long way to go, but more and more are now taking the environmental impacts of their products seriously," he added.
Greenpeace tested 37 products that 14 major electronics brands picked out as their greenest and agreed to submit for testing, awarding them points for substitution of toxic substances, energy efficiency and recyclability.
The three top products -- the Sony Vaio TZ11 notebook, the Sony Ericsson T650i mobile phone and the Sony Ericsson P1i PDA (personal digital assistant) -- each scored just over half the 100 available points.
Microsoft and Nintendo were among companies who did not agree to participate, and Greenpeace said that all the makers of games consoles either did not submit products at all or submitted them too late to be included.
Greenpeace said its survey, which it began in 2006, was nowhere near comprehensive enough to be used as a green guide for consumers.
Greenpeace toxics campaign leader Zeina Al-Hajj said the environmental group was talking extensively to makers of electronics. "We are seeing a dialogue happening," she told a news conference at CeBIT.
Al-Hajj said it was time for the green IT debate, which has been a recurring theme at this year's CeBIT and other technology fairs, to produce results beyond isolated, showcase products.
"It's not enough just to offer a green computer for the tree-huggers. Environmentally friendly devices must become a general trend and dominate mass production," she said.
(Reporting by Georgina Prodhan, editing by Will Waterman)