JBS, the new U.S. beef giant, expects deals to pass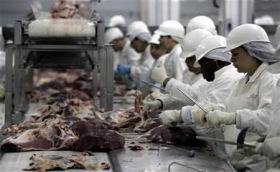 By Bob Burgdorfer
CHICAGO (Reuters) - A day after shocking the U.S. meat industry with two big beef company purchases, Brazilian meat company JBS SA <JBSS3.SA> said on Wednesday it expected U.S. authorities to approve the deals without it having to divest assets.
"We are confident we will be successful. We are not thinking about divesting," JBS President Joesley Batista said in a conference call with analysts and journalists.
On Tuesday, JBS announced a $1.27 billion deal to buy National Beef Packing Co and the beef unit of Smithfield Foods Inc, both in the United States, and the Australian beef company Tasman Group.
"That will certainly raise questions with the Department of Justice," Jim Robb, economist with the Livestock Marketing Information Council, said after learning of the deal.
Batista did not specify when the deals would be completed.
If the deals are approved, the Sao Paulo-based meat company will become the largest beef producer in the United States and in the world, holding about a 32 percent U.S. market share and 10 percent of the world beef market, industry sources said.
Tyson Foods Inc <TSN.N> is currently the largest U.S. beef company. It had an estimated 25 percent market share, but that share likely slipped after the company recently ended cattle slaughter at its 4,000-head-a-day plant in Emporia, Kansas.
Once the acquisitions are completed, JBS expects company-wide annual revenue of $21.55 billion, up from its current $12.7 billion.
JBS TO KEEP BEEF PLANTS OPEN
The deal comes at a time when the U.S. beef industry is struggling with an excess of processing capacity, sluggish beef exports, and a slowing U.S. economy.
During the call, Batista said the company did not intend at this time to close any beef plants to bring production capacity down to match the cattle supply. However, that could change later.
"We will be studying what we can do to make this company as efficient as possible," he said. "We don't expect to shut down shifts, but we will be ready to do what is necessary to compete, to save costs, and to make money."
U.S. analysts expect that eventually there will be some closures.
"I assume they will close a plant or two to get capacity in line with supplies," said Rich Nelson, livestock analyst with Allendale Inc.
Nelson said such a closure could be a few years in the future.
DEAL LIFTS MEAT COMPANY SHARES
Shares of Tyson Foods and Smithfield Foods rose on Wednesday after analysts said the JBS deal would be good for both companies.
For Tyson, the deal means fewer beef companies buying U.S. cattle, which should strengthen its bargaining position with cattle producers, Kenneth Zaslow, food industry analyst with BMO Capital Markets, said in a research note.
For Smithfield, the $565 million it will receive for its beef operations will be used to pay down debt, Pablo Zuanic, JP Morgan food analyst, said in a note.
Zuanic also saw the deal as a way for the beef industry to better keep beef production in line with cattle supplies.
Near midday on Wednesday in New York Stock Exchange trading, Tyson's shares were up 7.31 percent, or $1.09, at $16.01 and Smithfield's were up 5.02 percent, or $1.40, at
$29.28.
(Editing by Walter Bagley)