"Merchant of Death" says he is innocent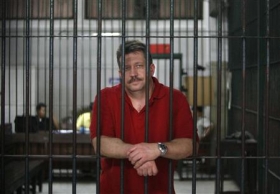 BANGKOK (Reuters) - Suspected international arms dealer Viktor Bout, caught in a U.S. sting operation in Thailand, has told police he was in Bangkok for a holiday and not to transact any weapons business, a police officer said on Saturday.
Bout, dubbed the "Merchant of Death" of the clandestine arms trade and picked up from a hotel on Thursday hours after arriving from Moscow, had denied a Thai charge of "seeking or gathering assets for terrorism," Colonel Kittisak Sukhawattanakul said.
"He said he came here as a tourist, but did not say where he planned to visit," Kittisak told Reuters.
Bout, a former Soviet air force officer, was charged in New York with conspiring to sell weapons worth millions of dollars to the Revolutionary Armed Forces of Colombia, or FARC.
The United States, which has given billions of dollars in military aid to Colombia to fight the Marxist rebels and drug cartels, plans to seek Bout's extradition, but Thai police have said that would have to wait until after he was tried in Thailand.
Thai laws require detained foreign terror suspects to be tried locally.
The court on Saturday granted police permission to detain Bout, who as finger-printed in front of the media, for further questioning.
He was remanded in custody at the infamous "Bangkok Hilton," or Klong Prem prison.
Police, who can detain him for three months, expect to finish their investigation in two months before submitting it to prosecutors, said Kittisak, who led Bout to the court escorted by 10 heavily armed commandos.
Bout plans to apply for bail on Sunday, his Thai lawyer Lak Nitiwatvichan said.
(Reporting by Noppawan Bunluesilp; Writing by Nopporn Wong-Anan; Editing by David Fogarty)