U.S. soldiers, militia exchange fire in south Iraq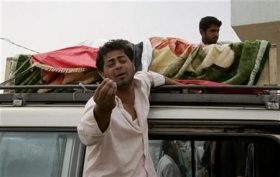 BAGHDAD (Reuters) - U.S. soldiers and Iraqi militants exchanged fire after a rocket attack from a Shi'ite Mehdi Army militia stronghold on a U.S. base southeast of Baghdad, Iraqi police said on Thursday.
An Iraqi police official, who asked not to be identified, said as many as 11 Katyusha rockets landed on the U.S. base near Kut, 170 km (105 miles) southeast of Baghdad, late on Wednesday.
Two Iraqi men, who the police source said were brothers, were killed and four others, including a 6-year-old girl, were wounded when U.S. soldiers responded to the rocket attack with mortar rounds, the official said.
A U.S. military spokeswoman said the Americans responded after four rockets were fired at the base. She had no information about civilian casualties but said no U.S. soldiers were hurt in the exchange.
Iraqi police said the rockets were fired from Kut's Shuhada district, one of four Mehdi Army strongholds raided by Iraqi police on Wednesday, a day after anti-U.S. cleric Moqtada al-Sadr's militia clashed with security forces.
Sadr renewed a six-month ceasefire last month but at the weekend issued a statement telling followers they could defend themselves if attacked. There had been no major violations of the truce until fighting erupted on Tuesday.
The ceasefire has been praised by U.S. commanders for contributing significantly to falling levels of violence. Attacks across Iraq have fallen 60 percent since last June, when an extra 30,00 U.S. troops became fully deployed.
But with U.S. forces already stretched thin by an upsurge in violence in Iraq since January, such violations of the ceasefire are a worrying development.
(Editing by Ross Colvin)