March retail sales unexpectedly rise 0.2 percent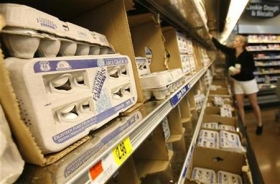 By Mark Felsenthal
WASHINGTON (Reuters) - U.S. retail sales unexpectedly rose in March as consumers had to dig deep to cover record high gasoline costs, according to a government report on Monday that did little to dispel the gloom hanging over the economy.
Retail sales rose 0.2 percent in March, pushed up by a jump in gasoline sales, a Commerce Department report showed. Analysts polled by Reuters were expecting retail sales to be unchanged from the previous month.
Sales at gasoline stations rose 1.1 percent. Gasoline prices hit records in March and have continued to rise since then, according to government data.
Excluding gasoline sales, retail sales were flat last month. In another sign of rising prices for commodities pressed by strong global demand, sales at food and beverage stores also rose. Retail sales data are not inflation-adjusted.
"It is a report that seems to highlight that consumers are moving into a more cautious mode," said Drew Matus, senior financial economist at Lehman Brothers in New York.
The report gave a boost to stocks and the dollar and sent U.S. Treasury debt prices lower, but stocks and the dollar retreated, and Treasuries regained ground on disappointing bank earnings.
Meanwhile, business sales fell in February, leaving businesses with an unwanted buildup of inventories, a separate Commerce Department report showed. The inventory-to-sales ratio, which measure how long it would to deplete stocks at the current sales pace, rose to 1.28 months from 1.26 in January.
The retail sales data follows a report last week showing U.S. consumer sentiment falling to its lowest in more than a quarter century in April, as worries about jobs and inflation darken shoppers' moods.
The economy appears on track for recession as a result of a severe correction in housing markets and a sharp pullback in credit have sharply slowed economic activity.
Excluding automobiles, retail sales rose 0.1 percent, in line with expectations.
The slumping housing market helped pull down sales at many retailers. Building materials and supplies sales slid 1.6 percent, while furniture and appliance store sales were also down.
Clothing store and general merchandise stores also saw declines in sales.
Non-store retailer sales rose 2.1 percent.
(Additional reporting by Doug Palmer in Washington and Chris Reese in New York)
(Reporting by Mark Felsenthal, Editing by Neil Stempleman)