Germany's Merkel to address Israeli assembly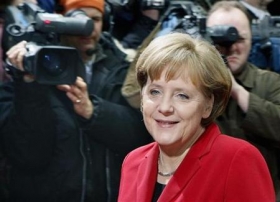 By Kerstin Gehmlich
BERLIN (Reuters) - Angela Merkel becomes the first German chancellor to address Israel's parliament next week, despite opposition from a small number of parliamentarians, more than six decades after the end of World War Two.
Merkel's three-day trip, starting on Sunday, marks the 60th anniversary of the creation of the Jewish state in 1948 and is intended to help further normalize relations between Germany and Israel.
She will be accompanied by several cabinet ministers and launch annual consultations between the governments. Talks on Monday with Prime Minister Ehud Olmert will include discussion of Iran's nuclear program.
"It's a signal of the normalization of relations," a senior German official said of the trip, referring to improving German-Israeli ties following the Holocaust, in which Nazi Germany killed about 6 million Jews.
The statutes of the Knesset, Israel's parliament, were changed to allow Merkel to speak there. Before the changes were made, the only German official allowed to address the chamber was the president, the head of state.
Johannes Rau asked for forgiveness for crimes committed by Germans against Jews when he became the first German president to address the Knesset in 2000.
A small number of lawmakers opposed Merkel making her address in German. At least one has threatened to walk out, saying the sound of the German language would be "irritating" as long as Holocaust survivors were still alive in Israel.
Merkel has told Israeli leaders Germany has a "special historical responsibility" towards their country, but she also urged them to focus on building ties for the decades ahead.
"In all remembrance of the past, we should above all direct our look towards the future," she said in a television interview.
Some commentators say Merkel has been less vocal in her public criticism of Israel than her predecessor, Gerhard Schroeder, on issues including military action in the Israeli-occupied West Bank,
UPGRADING TIES
Several business leaders and Germany's foreign, economy, justice, defense, family, environment and education ministers are to accompany Merkel on her trip, during which she is also due to visit the tomb of Israel's founder, David Ben-Gurion.
"This visit is important. The goal is to upgrade the bilateral relationship between the two governments," said Mark Regev, spokesman for Israeli Prime Minister Ehud Olmert.
Germany is one of six major powers involved in efforts to ensure Iran does not develop atomic weapons. Tehran says it nuclear program is intended only to produce electricity.
"Because of the historic background, Israel is expecting more from Germany than from other European Union partners on international issues, including Iran," said Patrick Mueller of the German Institute for International and Security Affairs.
"Israel expects Germany to say very clearly that Iran's actions are perceived as a concrete threat by Israel."
Germany joined the five permanent U.N. Security Council members Russia, United States, France, Britain and China earlier this year in circulating a proposal for a third sanctions resolution against Iran, which the Council voted this month.
The German government signaled last year it was willing to raise the pensions of Holocaust survivors, but Merkel said such payments would not be on the agenda of next week's talks.
(Additional reporting by Ari Rabinovitch in Jerusalem)