German leader visits 60 years after birth of Israel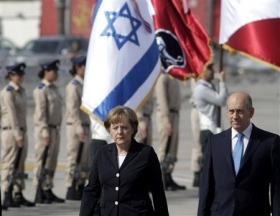 By Angelika Stricker
TEL AVIV (Reuters) - Angela Merkel began on Sunday a highly symbolic visit to Israel, where she will become the first German chancellor to address its parliament more than 60 years after the Nazi Holocaust that killed 6 million Jews.
"I am grateful we can open a new chapter in relations between our two countries," Merkel said at a red carpet ceremony at Tel Aviv's Ben-Gurion airport.
Welcoming Merkel, Israeli Prime Minister Ehud Olmert praised her "unflinching support" for the Jewish state and described the German leader as a "strategic ally."
Before embarking on her three-day trip, Merkel called on Iran to halt a nuclear program which Israel has described as a threat to its existence. Tehran denies it is seeking to build atomic weapons.
"The threats to which the Israeli state is exposed are also threats to us," Merkel said in her weekly podcast on Saturday.
German officials said the chancellor's visit, on the Jewish state's 60th anniversary year, is intended to help further normalize relations between Germany and Israel.
The visit will strike strong emotional notes.
Later in the day, Merkel was to fly to the southern burial site of Israel's first prime minister, David Ben-Gurion.
On Monday, she will lay a wreath at Yad Vashem, Israel's Holocaust memorial in Jerusalem. Later that day, Merkel and several government ministers accompanying will participate in a joint meeting with Olmert and his cabinet.
Merkel, 53, Germany's first chancellor to be born after World War Two, will address the 120-member Knesset, or parliament, on Tuesday, in German.
One legislator, Arieh Eldad of the right-wing National Union party, threatened to walk out of the session after a parliamentary committee voted overwhelmingly to give Merkel special dispensation to speak.
Under Knesset bylaws only foreign leaders who are heads of state can address the assembly.
"Probably the last words my grandmother and grandfather heard was the order, in German, to open fire (at them)," Eldad, 57, told Israel Radio, describing the German language as "painful" to his ears.
BEST FRIEND
But 63 years after the end of World War Two, Germany is widely regarded in Israel as its best friend in Europe. German cars and other products are prevalent and Germany is a popular tourist destination for Israelis.
In a milestone gesture in 2000, Johannes Rau became the first German president to address the Knesset. Speaking in German, he asked for forgiveness for crimes committed by Germans against Jews.
Some commentators say Merkel has been less vocal in her public criticism of Israel than her predecessor, Gerhard Schroeder, on issues including military action against Palestinians in the Israeli-occupied West Bank.
Last month, Olmert visited Berlin, where Iran was high on the agenda of his talks with Merkel. Officials said the issue would also be discussed at their meeting on Monday.
Germany joined the five permanent U.N. Security Council members Russia, United States, France, Britain and China earlier this year in circulating a proposal for a third sanctions resolution against Iran, which the Council approved this month.
Tehran says its uranium enrichment is part of a program intended only to produce electricity.
(Writing by Jeffrey Heller in Jerusalem; Editing by Charles Dick)