Barnes & Noble posts lower quarterly profit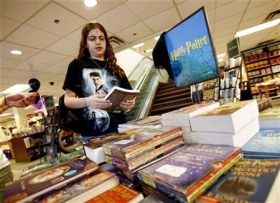 ATLANTA (Reuters) - Bookseller Barnes & Noble Inc <BKS.N> on Thursday reported a lower quarterly profit as a deteriorating economy hurt sales.
The world's largest specialty book retailer said net income in the fiscal fourth-quarter ended February 2 was $115 million, or $1.79 a diluted share, compared with $126.7 million, or $1.83 a share, a year earlier.
Rival Borders Group Inc <BGP.N> earlier on Thursday suspended its dividend and said it would explore options including a possible sale of the company.
(Reporting by Karen Jacobs, editing by Gerald E. McCormick)