Pope, eyeing China, reflects on persecuted Catholics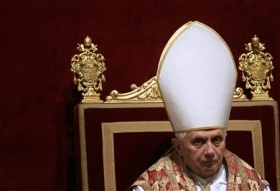 By Phil Stewart
ROME (Reuters) - Pope Benedict reflected on the persecution of Catholics across the world during a Good Friday procession around Rome's Coliseum that threw the spotlight on suffering among China's faithful.
The Pope, who has made improving relations with China one of the goals of his pontificate, presided over the traditional Via Crucis (Way of the Cross) procession commemorating Christ's crucifixion and death.
Attended by tens of thousands of people, the solemn, night-time ceremony is one of the main services ahead of Easter -- the climax of the Christian year.
Cardinal Joseph Zen Ze-kiun of Hong Kong, who has criticized a lack of religious freedom in China, wrote the meditations for this year. They paid tribute to those "living martyrs" who suffer for their faith.
"In many parts of the world, (the Church) is undergoing the dark hour of persecution," Zen wrote in one of the meditations.
China's 8 to 12 million Catholics are split between a church approved by the ruling Communist party and an "underground" church wary of government intervention. Beijing and the Vatican severed ties two years after the 1949 Communist takeover.
Even though there was no explicit reference to China's Catholics on Friday, the cardinal said last week his meditations honored China's Catholics, who "are truly a people that have suffered a lot and are suffering."
PERSECUTION, AL QAEDA THREAT
In the Good Friday ceremony, broadcast on television to 39 countries, a young woman from China carried the cross for the part of the ceremony, under a rainy, cold night sky.
The Pontiff briefly held the cross at the end of the ceremony, facing the ancient ruins of the Coliseum.
Zen noted how the Coliseum was once the place where early Christians were put to the death.
"Coliseums have multiplied down the centuries, wherever our brothers and sisters, in different parts of the world, continue to be harshly persecuted today," Zen wrote in the forward, which the Pope read aloud.
Earlier this month, an Iraqi archbishop was found dead in eastern Mosul after being kidnapped by gunmen, in an attack Iraqi Prime Minister Nuri al-Maliki blamed on al Qaeda.
The Pontiff is proceeding with a busy calendar of Easter weekend celebrations despite fresh accusations from al Qaeda leader Osama bin Laden.
The Saudi-born militant leader said in an audio recording released this week that the publication of cartoons mocking the Prophet Mohammad was part of a "new crusade" involving Pope Benedict -- a charge the Vatican denied.
Italian security officials said on Friday the message was being treated as a threat against the Pope, but added no changes were needed to the Pontiff's already tight security.
The German-born Pope is leading the 1.1 billion-member Roman Catholic Church towards the third Easter of his pontificate.
On Saturday night, Benedict will say an Easter Eve mass, and on Sunday will deliver an "Urbi et Orbi" (to the city and the world) blessing and message.
(Editing by Alison Williams)