Cheney says Saudis kept promise on oil production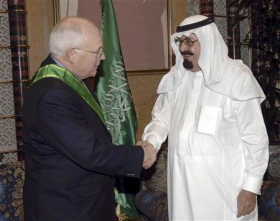 JERUSALEM (Reuters) - Vice President Dick Cheney said on Monday that Saudi Arabia had kept its promise to increase oil production capacity over the past three years.
Cheney was in Jerusalem after visiting Saudi Arabia last week. He said in Saudi Arabia, he reviewed the situation with Oil Minister Ali bin Ibrahim al-Naimi after Riyadh told the United States it was expanding capacity three years ago.
At that time they were producing about 10-12 million barrels per day.
"They said they would add 2 million barrels a day in production over the next four or five years, through the end of (2009), and they've kept their word," Cheney said.
(Writing by Michael Winfrey)