U.S. acknowledges navy warning shot killed Egyptian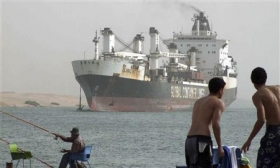 CAIRO (Reuters) - The United States said on Wednesday a warning shot fired from a U.S. naval vessel appeared to have killed an Egyptian on Monday, after earlier denying reports of such a death.
"The Global Patriot, a ship on short term charter to the U.S. Navy's Military Sealift Command, fired warning shots at a small boat approaching the ship as it was preparing to transit the Suez Canal Monday evening," a statement from the U.S. embassy in Egypt said.
"It appears that an Egyptian in the boat was killed by one of the warning shots."
A statement by the Navy on Tuesday said it had not recorded any casualties, that the warning shots were 20 to 30 metres in front of the small motorboat's bow, and that all shots were accounted for as they entered the water.
Egyptian security sources had said Mohammed Fouad Afifi Gaafer was killed by bullets fired from the ship and was buried on Tuesday.
The crew of the boat had been trying to sell goods to ships passing through the Suez Canal, the Egyptian sources said.
Adm. Gary Roughead, U.S. chief of naval operations, said on Tuesday Egyptian reports of a death had not been corroborated, and that he stood by the decision to open fire.
But a statement by the Bahrain-based 5th Fleet on Wednesday expressed regret for the death, "an apparent result from warning shots fired," and said it would help the family of the victim.
(Writing by Aziz El-Kaissouni; editing by Andrew Roche)