Swiss report first bird flu case in 2 years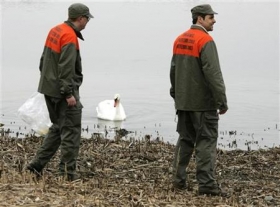 ZURICH (Reuters) - Switzerland reported the first case of H5N1 bird flu in the country in two years in a duck on Sempachersee lake, veterinary authorities said on Thursday.
The duck, the 33rd case of bird flu in Switzerland, showed no signs of illness, the Federal Veterinary Office said in a statement.
The other 32 discovered cases of bird flu were all reported in early 2006, on Lake Geneva and Lake Constance.
Experts fear the H5N1 strain could mutate into a form easily transmitted from person to person, leading to a pandemic that could kill millions worldwide.
(Reporting by Sam Cage; Editing by Elizabeth Piper)