April personal spending up, flat after inflation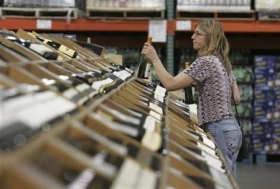 WASHINGTON (Reuters) - Personal spending rose by 0.2 percent in April as forecast and a key gauge of core inflation slowed, government data on Friday showed, but real spending adjusted for higher inflation overall stagnated.
Personal spending, under scrutiny as a barometer of how consumers fare as the U.S. economy cools amid soaring energy costs and a slumping housing market, had risen by 0.4 percent the previous month.
The Commerce Department said that personal income was up 0.2 percent in April, also matching forecasts, following an upwardly revised 0.4 percent increase in March. This was previously reported as a 0.3 percent rise.
But adjusted for inflation, after-tax income stagnated in April for the second straight month, while real personal consumption was also unchanged in April after a 0.1 percent March rise.
"Consumer spending is slowing due to a combination of factors -- slowing income growth, higher energy prices and a greater propensity to save. The slowing income gain is due to a weakening job market," said Richard DeKaser, chief economist at National City Corp. in Cleveland.
"We have a challenged consumer, but we have help on the way with the refund checks which will be significant in the summer months," he said, referring to a fiscal stimulus package to pump cash into the wallets of U.S. households.
The overall personal consumption expenditures price index was up 0.2 percent in April from a 0.3 percent increase the month before, the Commerce Department said.
Excluding volatile food and energy prices, the core PCE price index, which is the Federal Reserve's preferred measure of inflation, rose by 0.1 percent as expected, slowing from a 0.2 percent increase in March.
Financial markets took heart from the muted reading on core price pressures, with the dollar advancing and U.S. government Treasury bonds rising in price.