A Happy Relationship Keeps Blood Pressure Low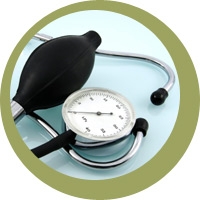 Is your blood pressure so high that your doctor has proclaimed you a walking stroke?
Of course, you know all the best tricks for bringing it back down. He's told you to quit smoking, lose weight, exercise daily, and cut back on the beer and bacon – all very difficult and unpleasant tasks, though definitely more fun than a heart attack.
But there's one medically-proven way to keep your blood pressure low, which might be the easiest method of all: Be part of a happy couple. (Though come to think of it, it could also be the hardest.)
In a recent study from Brigham Young University, researchers tracked the blood pressure of 99 single and 204 married adults over a 24-hour period, after asking them questions about the quality of their relationships with both partner and friends. According to their findings, men and women who feel fulfilled in their marriages have significantly lower blood pressure than single people, no matter how many friends they have.
"There seem to be some unique health benefits from marriage," the study's author, Dr. Julianne Holt-Lunstad said in a statement. "It's not just being married that benefits health. What's really the most protective of health is having a happy marriage."
It's true: The study participants who said their partners made them miserable had higher blood pressure than both the happy couples and the single people. So if your relationship is more Marge and Homer than Mike and Carol, too much time with your partner may actually raise your blood pressure.
On the other hand, if you're lucky enough to be living in domestic bliss, you can take comfort in the fact that your partner is helping your health. (But it still doesn't mean you can sneak an extra side of bacon with your breakfast.)