Fannie Mae takes another step to ease capital need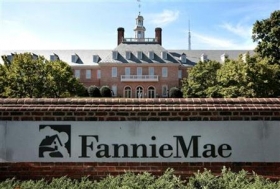 By Al Yoon
NEW YORK (Reuters) - Fannie Mae, the largest provider of funding for U.S. residential mortgages, has extended forbearances for troubled homeowners in a move the company expects to ease stress on its capital.
The move allows temporary suspensions or reduced payments by borrowers for up to six months, up from four months, said Jason Allnutt, a vice president for credit loss management for Fannie Mae <FNM.N> in Dallas.
Giving homeowners greater leeway will help Fannie Mae limit the costly process of purchasing bad loans out of the $2.5 trillion in mortgage-backed securities it guarantees. Under standard accounting rules, buying mortgages out of MBS trusts forces the company to revalue the loans at market levels, which last year boosted fair value losses sevenfold to $1.4 billion.
Fannie Mae is balancing the need to "keep people in their homes ... with having to pull loans out of trust," Allnutt said in an interview. "This is one of those changes that helps us in both ways."
Longer forbearance for homeowners may give the government-sponsored enterprise more breathing room on capital as lawmakers and regulators pressure it to do more to stabilize the battered U.S. housing market. The program will complement other efforts by the GSEs, lenders and mortgage counselors to slow an epidemic in foreclosures that is threatening to push the U.S. economy into recession.
Heavy losses on loans purchased -- whose values are determined based on the worst mortgage market in decades -- and increased focus on loss mitigation have resulted in other new programs to keep borrowers in their homes. In February, Washington-based Fannie Mae announced it would begin offering unsecured loans to homeowners in arrears.
The HomeSaver advance and HomeSaver forbearance programs are bets that the loans can be "cured," or fixed, faster and cheaper than through other loss-mitigation efforts. Such plans will work if servicers use the time to obtain more information from the homeowner, said Rick Smith, chief executive of Marix Servicing LLC in Phoenix, Arizona.
"Fannie Mae is trying to give the servicers as many tools as possible to help homeowners," he said. But "if a servicer does not gather the financial information, then some plans will just delay the inevitable" foreclosure process and increase costs for investors, he said.
Greater flexibility for homeowners means the same for Fannie Mae on capital, which is at the crux of the company's struggle to balance its congressionally chartered role to support housing and staunch losses. Fannie Mae and Freddie Mac <FRE.N> under an agreement with their federal regulator are expected to raise at least $6 billion in fresh capital to stabilize the market with new investments.
Some analysts expect the companies will have to raise more capital over the year as falling home prices cause additional stress on homeowners. Fannie Mae in February boosted forecasts for its credit losses this year.
If "two extra months of forbearance doesn't stop the loan from deteriorating further" then only timing of the capital hit is affected, said Jim Vogel, a strategist at FTN Financial Capital Markets in Memphis, Tennessee.
Fannie Mae's Allnutt said the company is responding to servicer requests for flexibility in their dealings with delinquent homeowners. Without HomeSaver Advance and HomeSaver forbearance plans, servicers would have pushed borrowers into the more complicated loan-modification process, leading Fannie Mae to extract the loan from the mortgage security, he said.
Fannie Mae announced its forbearance extension to mortgage servicers on Friday. The move was reported by Internet blog HousingWire.com on Monday.
By reducing the loans purchased from MBS, Fannie Mae is saving capital to cover homeowners that need modifications, Allnutt said. Modifications can include freezing interest rates at lower levels, or forgiving a portion of principal.
McLean, Virginia-based Freddie Mac has reduced the number of loans it purchased from its mortgage bonds by expanding the criteria delinquent loans must meet. The new guidelines, instituted in December, helped reduce the number of loans purchased out of Freddie Mac's mortgage bonds to $300 million in December from more than $1 billion in October and November.
(Editing by Frank McGurty)