Summer forecast hot for Europe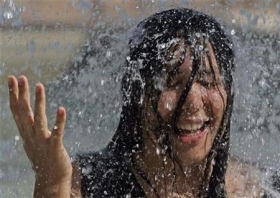 LONDON (Reuters) - Northwest Europe could see above average temperatures and rainfall this summer, according to the UK Met Office's summer forecast published on Thursday, while southern and eastern Europe look like being drier than normal.
"For north-western Europe, early indications suggest a slightly enhanced risk of more unsettled spells than usual with average or above-average rainfall," the UK's official weather forecast said.
"In contrast, rainfall is more likely to be below average over much of southern and eastern Europe."
Mean summer temperatures are more likely to be above the long-term average for the years from 1971-2000 over much of Europe, with the highest likelihood of hotter than average weather in Mediterranean regions.
But, because of global warming, both winter and summer temperatures over the last few years have been above the long-term average of the three decades running up to 2000.
The Met Office has not forecast any prolonged periods of intense heat, which have in the last few years led to closures of power plants in parts of Europe because of cooling problems.
According to the forecaster's preliminary summer outlook for Britain, the months of June, July and August look like being warmer than last year and wetter than average but not as inundated as last summer.
Large parts of the UK were flooded last summer after torrential rains drenched the country during one of the wettest British summers on record. Temperatures, although still slightly above the long term average, were also relatively mild.
"Against the background of warming climate, Summer 2007 was relatively cool - the coolest since 1998," the forecaster said.
"Rainfall is more likely to be either near average or above average. The risk of exceptional rainfall, as seen last summer, is assessed as very low at this stage."
(Reporting by Daniel Fineren, editing by Alex Lawler)