Dominion plans to build 300-mw wind farm in Illinois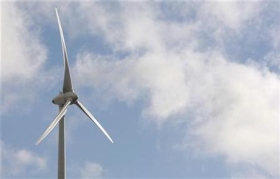 NEW YORK (Reuters) - Power company Dominion Resources Inc said on Wednesday it plans to develop a 300-megawatt wind generation facility in central Illinois.
The Prairie Fork Wind Farm will feature 150 to 200 turbines constructed across approximately 25,000 acres in Christian and Montgomery counties, about 25 miles southeast of Springfield, the company said.
Construction is expected to begin in 2010, with commercial operation starting in 2011.
"Dominion is aggressively pursuing opportunities to add to its growing portfolio of emissions-free, renewable generation," Mark McGettrick, president and chief executive of Dominion Generation, said in a statement.
Prairie Fork will increase Dominion's renewable generation capacity to nearly 1,300 megawatts in operation or under development, Richmond, Virginia-based Dominion said.
About 800 megawatts of Dominion's renewable energy portfolio would come from wind power. This includes partnerships in two other wind energy projects: a 325-megawatt share of the Fowler Ridge Wind Farm under development with BP Alternative Energy North America in Benton, Indiana; and a 50 percent interest in a 264-megawatt project being developed in Grant County, West Virginia, with Shell WindEnergy Inc.
Other Dominion renewable generation includes hydro and biomass facilities.
The Prairie Fork project also would bring Dominion's generation capacity in the Midwest to more than 3,200 megawatts, enough to power more than 800,000 homes.
(Reporting by Steve James; Editing by Tim Dobbyn)