Congress should take lead on CO2 rules: lawmakers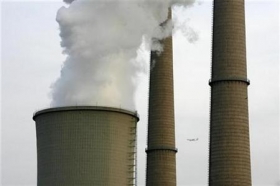 By Chris Baltimore
WASHINGTON (Reuters) - The task of writing first-ever rules to limit greenhouse gas emissions should fall to Congress and not federal regulators, key lawmakers in the House of Representatives said on Thursday.
Pressured by a landmark 2007 ruling by the Supreme Court that it must reconsider its refusal to regulate carbon-dioxide emissions from new cars and trucks, the Environmental Protection Agency last month started a long process of writing regulations.
The process could eventually yield the first rules on heat-trapping carbon dioxide emissions from both mobile sources like cars and stationary ones like power plants.
But concrete proposals are unlikely to emerge before President George W. Bush leaves office in 2009 and federal rules would likely be held up indefinitely by court challenges, lawmakers warned.
Rep. John Dingell, a Democrat and chairman of the House Energy and Commerce Committee, said it would be "insane" for Congress to leave the task of writing regulations to the EPA and risk a "long and complex process" of "litigation on top of litigation.
"I'm sure that the legal profession would enjoy this mightily," Dingell said.
Dingell, whose Michigan home district is home to the Big Three U.S. automakers, is key to House efforts to craft global warming legislation.
Congress should follow through with efforts to write legislation, which would likely result in a cap-and-trade system to allow electric utilities and other major industry to swap permits to emit greenhouse gases to comply with mandatory nationwide limits, Dingell said.
The tricky task of designing a trading system and awarding valuable emissions allowances should not be left to the EPA, Dingell said. Such decisions "should be made by an elected and accountable Congress," Dingell said.
Rep. John Shimkus, Illinois Republican whose state relies heavily on electricity from coal-fired power plants, called the Supreme Court's decision "judicial activism" which would damage the U.S. economy by raising energy costs.
"We ought to at least have the guts to have an up or down vote," Shimkus said.
The United States is the world's biggest greenhouse gas emitter, but the Bush administration to date has adamantly opposed mandatory regulations, citing inaction by other major emitters like China and India.
The EPA last month said it will issue an "advanced notice of proposed rulemaking" later this spring, which will call for public comment on the effects of potential regulations.
Key to the process would be for the agency to make a positive "endangerment finding" that greenhouse gases are a dangerous pollutant that should be regulated under the Clean Air Act, like other air pollutants like mercury, sulfur dioxide and nitrogen oxides.
The rule notice will "present and request comment on the best available science related to making an endangerment finding," EPA Deputy Assistant Administrator Robert Meyers told the committee.
Dingell said Congress never intended for the Clean Air Act to regulate greenhouse gas emissions, and said a "glorious mess" of lawsuits could follow if the EPA decides to use the act to regulate carbon dioxide.
David Doniger, a climate change expert at environmental group the Natural Resources Defense Council, said the act is a "powerful tool" that could form the basis for greenhouse gas emissions from both stationary sources like power plants and mobile ones like cars, trucks and airplanes.
"The Clean Air Act could be used to begin reducing the vast majority of U.S. emissions," Doniger said.
(Editing by Christian Wiessner)