China Mobile seeking small stakes in global peers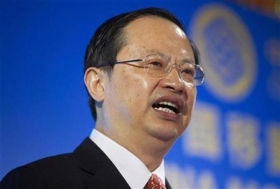 BEIJING (Reuters) - China Mobile, the world's largest mobile phone operator, said on Saturday that it was seeking small stakes in global telecom firms because controlling stakes had become too expensive.
Although minor holdings would give China Mobile only limited sway over target companies, Chief Executive Wang Jianzhou said there would be wider benefits from such deals.
"Entering into international telecom firms as small shareholders can help us learn from their experiences and gradually develop further," he told a seminar on the sideline of the Boao Forum for Asia in southern China.
China Mobile Ltd. <0941.HK> last year bought an 89 percent stake in money-losing operator Paktel Ltd. for $284 million, its first acquisition outside its home market.
Wang said many telecom firms were looking at a small pool of targets in emerging markets, which was greatly driving up acquisition prices.
"It's not realistic for us to try to always get controlling stakes at very high prices," he added, without revealing which markets he was interested in.
Discussing delays in bringing Apple's <AAPL.O> iPhone to China, Wang said China Mobile was very interested in doing so because many of its customers were hungry for the phone.
The mobile operator said in January that talks with Apple Inc <AAPL.O> on launching the U.S. company's popular iPhones in China had been called off, although Apple has never commented officially on the issue.
"The door is always open and as long as our clients like it, we will actively push for it," he said.
Wang added that the two sides had reached a consensus on some manner of cooperation but had yet to discuss a range of technical issues. He did not elaborate.
He also said that China Mobile, which is listed only on the Hong Kong market, had not dropped its aim of floating a small batch of shares in Shanghai at some point despite the turbulent market conditions.
(Reporting by Eadie Chen, editing by David Christian-Edwards)