SSE and Gothia plan 200-MW of Swedish wind power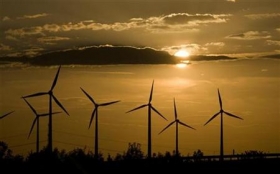 LONDON (Reuters) - Airtricity and Sweden's Gothia Vind have formed a joint venture to build wind farms in western Sweden, the renewable energy arm of Scottish and Southern Energy said on Wednesday.
The two companies hope to build around 200-megawatts of wind power capacity, with the first wind farm expected to be in operation by 2011.
"There is a rapidly rising demand for wind power in Sweden, and we believe that the joint venture with Gothia Vind will give us a platform to meet some of this demand and thereby establish a significant and growing presence in this important market," Airtricity Chief Executive Paul Dowling said in a statement.
The partners expect to make equity investments of around 30 million euros ($47.49 million), with non-recourse debt expected to account for around 80 percent of the total investment.
(Reporting by Daniel Fineren)