Sustainable Fast Food - Is That a Green Burger You're Eating?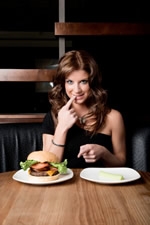 At first blush many may ask "who'd want to eat a green hamburger?", but the truth is there's a growing market for green burgers, as well as fries, milkshakes, fajitas, pizza – all manor of fast food is, in fact, turning green.
Or at least greener – and that's a great thing.
Fast food has become emblematic for much of what ails modern society – attaching "Mc" has come to mean too much of a bad thing.
But in Ode Magazine's April issue, writer Mary Desmond Pinkowish shows, in her article Not the Same Old Drive-Thru, how that is changing.
There's Chipolte, founded by Steve Ells, who opened his first restaurant near the University of Denver in 1993, Burgerville, with 39 stores throughout the U.S Northwest (famous for its milkshakes made with seasonal and locally-grown berries – from strawberries in the spring to raspberries, blackberries, and finally hazelnuts in the winter), or San Francisco-based Sellers Markets to name but a few fast food joints serving the triple bottom line.
So what actually happens to make a burger green?
Think Globally – Eat Locally
In a survey last fall conducted by the National Restaurant Association, more than 1200 professional chefs voted on the hottest trends for the industry in 2008. Number two on the list was locally grown produce. (Number one was bite-sized portions – perhaps "super-size me" is becoming a thing of the Mc-past). For chains like Burgerville, this "hot new trend" started at the chain's inception back in 1961.
Beyond locally grown meat and produce, eco-fast food must look to their entire operation to create a sustainable business model, from recycled packaging, biodegradable cleaning products, and renewable energy to pizza delivered with bio-diesel or hybrid powered vehicles.
The Massachusetts-based non-profit Green Restaurant Association has helped restaurants interested in greening their operations by setting guidelines and defining the exact 11–step process required for "certification" as a green restaurant.
Those steps are:


Energy Efficiency and Conservation


Water Efficiency and Conservation


Recycling and Composting


Sustainable Food


Pollution Prevention


Recycled, Tree-Free, Biodegradable and Organic Products


Chlorine-Free Paper Products


Non-Toxic Cleaning and Chemical Products


Green Power


Green Building and Construction


Education
More details about the list is available on GRA's website.
And as most readers of 3P already understand, doing good generally means doing well also. Most businesses following these guidelines save money in the process.
Of course, from a consumer's point of view, the bottom line for any restaurant is how the food tastes. Which would you rather eat – a burger made from a patty filled with antibiotics that has sat under a heat lamp for who know how long, or a sandwich made from grass-fed beef that enjoyed a life ruminating in the sun, slow-roasted and made to order right there on the spot?
Or how about potatoes fried in (and dripping with) grease or air-baked and so tasty they pass even the "teenager test" ? (not to mention a lot healthier for you.)
Like I said in the beginning, it's all about the triple bottome line: good for business, good for the environment, and great tasting.
Now if you'll excuse me, I'm a bit famished.
Other Green Fast Food Joints: