Strongest quake in 40 years rattles Midwest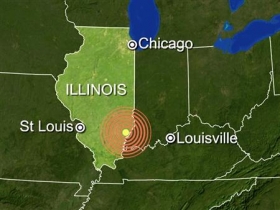 By Andrew Stern
CHICAGO (Reuters) - A 5.2 magnitude earthquake centered in southeast Illinois that was the strongest in the Midwest in 40 years startled residents before dawn on Friday, but officials reported no injuries and only minor damage.
The quake, the strongest since a 5.4 magnitude quake in November 1968, could be felt as far west as Kansas, as far east as Georgia and as far north as Michigan's Upper Peninsula, according to the U.S. Geological Survey.
"Earthquakes of comparable size are felt over greater distances in the East than those occurring in the West," noted USGS seismologist Harley Benz.
Experts say soil conditions in the central United States are such that shocks in the region tend to travel farther and be felt in wider areas than in places such as California where they would be more quickly absorbed.
Friday's quake, classified as "moderate" by the USGS, was centered five miles northeast of Bellmont, Illinois, in the southeastern part of the state along the Indiana border in an area near Kentucky.
Some bricks were knocked from a building in Louisville, Kentucky, and residents near the epicenter reported being awakened by several seconds of shaking strong enough to knock pictures off walls. Many others slept through it.
A tower at O'Hare International Airport swayed, with one controller telling the Chicago Tribune newspaper it felt like "being on the end of a fishing pole."
The quake was felt in downtown Chicago buildings, and the city fire department said that while there was no damage reported it asked operators of construction cranes to check that they were still firmly anchored before resuming work.
The quake struck at a shallow depth of 7.2 miles, according to the USGS. The agency initially said the quake had a magnitude of 5.4 but later revised it to 5.2.
The temblor occurred in the Wabash Valley seismic zone, which produces quakes fairly frequently. It is adjacent to the New Madrid fault zone that in the winter of 1811-1812 produced three of the strongest earthquakes ever to strike the continental United States.
(Additional reporting by Michael Conlon and Vicki Allen; Editing by Eric Walsh)