Vets' attorney asks judge to help stem suicides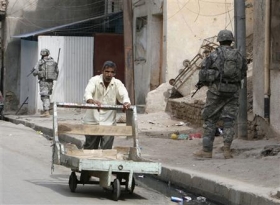 By Adam Tanner
SAN FRANCISCO (Reuters) - Saying 18 U.S. veterans commit suicide every day, a lawyer representing veterans' groups asked a federal judge on Wednesday to order the government to provide better mental health care.
"The system, your honor, has crashed, it has been overwhelmed," Arturo Gonzalez told Judge Samuel Conti. "More of these veterans are dying in the United States than out in combat. That is wrong."
Gonzalez cited studies that found veterans committed suicide between three and 7.5 times more often than the national average. That has meant 1,467 deaths between October last year and March 31 for veterans whose medical claims were under appeal.
"Without your help, it's going to get a lot worse," the attorney said, saying some veterans waited years to have the claims reviews processed. "There is only one person on Earth who can help these veterans."
The lawsuit in U.S. District Court for Northern California says the U.S. Department of Veterans Affairs is unable to deal with the growing number of post-traumatic stress disorder (PTSD) cases emerging from the wars in Iraq and Afghanistan.
Combat can trigger PTSD, but sometimes the symptoms take months or years before appearing.
Daniel Bensing, the U.S. Justice Department attorney representing Veterans Affairs, called the charges extreme and outrageous.
"Enormous steps are being taken in the field to enhance the mental health benefits to veterans," Bensing told Conti, a World War Two U.S. Army veteran. "It cannot all be done immediately like plaintiffs seem to think. It is a process.
"We don't dispute that suicide is a major, serious problem among veterans," he said, adding that "in the real world ... we cannot work miracles."
The judge -- there is no jury -- heard from government administrators and experts on suicide during the case that began last week. Veterans did not testify because the court is deciding whether systematic shortcomings exist.
Conti asked both sides to provide final written arguments by May 19, after which he would decide.
(Editing by Xavier Briand)