EU must create carbon storage incentive, says UK adviser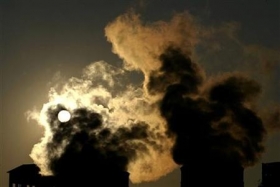 By Jeremy Lovell and Gerard Wynn
LONDON (Reuters) - The European Union will not get its planned 12 carbon capture and storage (CCS) fitted power plants by 2015 because it is trying to do it on the cheap, Prime Minister Gordon Brown's environmental adviser said on Wednesday.
Michael Jacobs said Britain was pushing ahead with its competition to get a CCS demonstration plant up and running by the end of 2014 and was willing to put "10s of millions of pounds of taxpayers money" in place to do so.
The EU, on the other hand, had expressed a wish to have up to a dozen such plants running by 2015 but had done nothing to put in place financial incentives, aside from sparing such plants the expense of buying carbon emissions permits.
"We can't see the Europeans fulfilling the 12 without a European instrument," Jacobs told a conference on the business case for carbon capture and storage.
"The (European) Commission needs to come up with an incentive mechanism."
Many governments now see CCS as a key weapon in the fight against global warming because it captures the emissions from fossil-fuel burning power stations and buries them underground, in a process which could keep up to a third of all carbon emissions out of the atmosphere.
However, the technology is untried at a commercial scale and will initially be very expensive, at around 1 billion euros ($1.60 billion) per power plant, making it unattractive for individual companies to undertake without support.
But the prize for the winner is potentially vast, with China on its own opening one coal-fired power plant a week and global reserves of coal which could last hundreds of years.
Jacobs said there were a number of possible EU financing instruments including the bloc's budget, taxpayers money, a consumer subsidy or even treating the technology as a partially renewable energy source.
Qualifying coal plants fitted with CCS technology for power price support under renewable energy goals may rile environmental groups fearing that would displace the likes of wind and solar power, seen a long-term clean energy solution.
Britain, he said, was in discussions with the EU Commission and the EU urgently needed to find a solution.
In the meantime the country was pushing ahead with plans to have at least one CCS demonstration plant in place within seven years. Jacobs said the UK could fund more CCS demonstration plants if new EU incentives were in place.
The first stage of the competition had just closed and nine bidders had entered, he said. This list would be whittled down to four or five in the next few months.
"There is very, very strong commitment on the part of the British government," Jacobs said. "We see these technologies as absolutely critical."
(Editing by James Jukwey)