Shell Q1 profits beat forecasts on record oil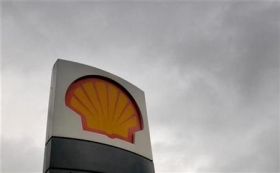 By Tom Bergin and Alex Lawler
LONDON (Reuters) - Royal Dutch Shell Plc <RDSa.L> beat all forecasts on Tuesday with a 12 percent rise in first-quarter current cost of supply (CCS) net income, helped by record oil prices which broke $100 a barrel in the period.
Excluding non-operating items, which amounted to a net charge of $77 million, the CCS result, which strips out the impact of changes in the value of fuel inventories, was $7.85 billion.
A Reuters poll of 11 analysts gave an average forecast of $6.84 billion for Shell's first quarter CCS earnings, excluding non-operating items. The highest forecast was $6.99 billion.
"They look like blow-away numbers. Surprising across all divisions at this time," said Jason Kenney, analyst at ING. "I can't see anything in particular that is unusual, they've just done well."
Shell and other oil companies are benefiting from surging oil prices, which topped $100 a barrel in January and have since climbed towards $120. Earnings at Shell's rival BP Plc <BP.L> also beat forecasts.
The Hague-based Shell delivered a surprise for investors with a small boost in output.
It said production averaged 3.52 million barrels of oil equivalent per day (boepd) in the first three months of the year, compared with 3.51 million boepd in the same period last year.
Analysts had predicted output would fall to 3.40 million boepd.
"The real positive is the upstream, both on the volumes and on the profitability," said Herman Bots, analyst at Theodoor Gilissen.
STRATEGY ON TRACK
Shell Chief Executive Jeroen van der Veer said the company's results were "competitive" and its strategy was on track.
"Shell has the largest capital spending program in our industry today, to grow the company and play our part in ensuring that energy markets remain well supplied," he said in a statement.
After five years of falling production, the world's second-largest non-government-controlled oil company by market capitalization has been struggling to expand output.
Output is in decline at some ageing fields and access to big sources of new reserves is becoming harder. Oilfields in some of the largest reserve holders are off limits to foreign oil companies.
Refining and fuel marketing profits fell 20 percent due to an industry-wide collapse in crude processing margins, although the result was better than analysts had expected.
Shell said a refund of royalty payments helped boost profits at its oil sands division, which squeezes crude from bitumen-drenched soil in Canada, where many analysts had expected earnings to fall due to lower production.
(Editing by Louise Ireland)