U.S. Hispanic population hits 45.5 million: agency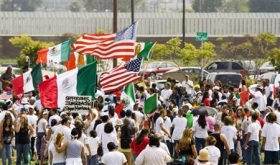 WASHINGTON (Reuters) - The number of Hispanics in the United States grew to 45.5 million last year, and the country's largest minority group now makes up more than 15 percent of the U.S. population, the U.S. Census Bureau reported on Thursday.
Hispanics surpassed blacks as the largest U.S. minority in 2003 and continued to widen the gap by growing at nearly three times the pace of the black population, Census Bureau figures showed.
The Hispanic population grew by 1.4 million in the year ending July 1, 2007, while the black population grew by 540,000 to reach a total of 40.7 million, the agency said in a report on minority populations in the United States.
Sixteen states had a Hispanic population of more than 500,000. California was the largest at 13.2 million, followed by Texas at 8.6 million and Florida at 3.8 million.
Twenty states had a black population of more than 500,000, including New York with 3.5 million, and Florida and Texas with 3 million apiece.
Asians made up the third-largest minority group in the United States, with 15.2 million. American Indians and Alaska natives totaled 4.5 million while native Hawaiians and other Pacific Islanders were 1 million.
The white population was 199.1 million in 2007 while the total minority population was 102.5 million, the Census Bureau said.
Four states and Washington, D.C., had populations where minorities were in the majority. Hawaii was the largest majority-minority state, with 75 percent of the population belonging to minority groups.
Washington, D.C., had a 68 percent minority population followed by New Mexico with 58 percent, California at 57 percent and Texas with 52 percent.
(Reporting by David Alexander; Editing by Eric Beech)