Public Bike Programs Surging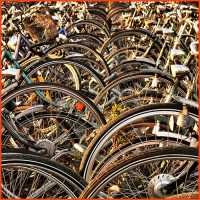 A surge in public bicycle rental programs is giving cycling a shot in the arm in a growing number of cities around the world. Copenhagen, Berlin, and other municipalities in Europe have offered public bikes for several years, but Paris took the concept to a new level last year when it made 20,000 bikes available in its inaugural effort. Some 100,000 Parisians are now subscribers.
Barcelona and Lyon have also started programs in the last two years, with thousands of bikes each, and major new initiatives are planned for Rome and London. Smaller efforts have been started in Cordoba, Seville, Vienna, and other cities. 
Similar to car-sharing programs, these schemes make bikes available to subscribers at strategic locations citywide. Patrons access a bike with an electronic card, use it as needed, and return it to the same or another parking rack when finished. Charges to riders are often free for the first half hour and increase thereafter. The bulk of the program expense is usually borne by businesses in return for advertising space on city billboards.
Car-loving Americans may soon climb on board: Washington, D.C. is set to begin a pilot program, and hilly San Francisco is in negotiations to begin one. Other cities said to be interested in such programs include Beijing, Geneva, Moscow, Sydney, and Tel Aviv.
The programs represent a serious new commitment to bicycles by municipal governments. Perhaps this is most notable in London, where mayor Ken Livingstone has proposed to make a major investment in cycling-some £500 million over 10 years, with a goal of increasing cycling to 10 percent of all trips. That works out to nearly a billion dollars for bikes.
Gary Gardner is a senior researcher with the Worldwatch Institute, an environmental research organization based in Washington, D.C.