Slower cuts in greenhouse gases cloud carbon boom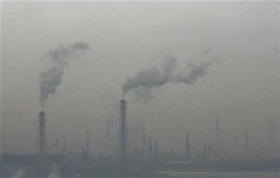 By Vera Eckert and Michael Szabo
COLOGNE, Germany (Reuters) - The global carbon market more than doubled in value in 2007 to $64 billion, but that masked slow growth in actual greenhouse gas emissions cuts, the World Bank's carbon finance unit said on Wednesday.
Climate change policies which limit the production of planet-heating gases in rich countries are driving booming global demand for emissions permits.
One way industrialized nations can buy carbon offsets is by funding greenhouse gas emissions cuts in developing nations, through a U.N.-led scheme under the Kyoto Protocol, but growth in value is outstripping emissions cuts.
"It would be a shame for the world to lose this momentum now," said Karan Capoor, head of sustainable development for the World Bank and main author of the report.
"At a time that global cooperation to reduce the risk of climate change is more important than ever before, the prospects for developing countries benefiting from the carbon market are in question."
While trade under Kyoto schemes more than doubled to $13.4 billion in 2007, volumes of actual carbon dioxide cuts made by registered projects grew just 7 percent.
The primary market for Kyoto's Clean Development Mechanism (CDM) grew to 551 million tonnes of carbon dioxide equivalent last year from 537 million in 2006.
The slow growth was due mainly to bureaucratic and procedural delays, the report said.
Policymakers hope that rich countries' demand for carbon offsets will finance the clean-up of heavy industry in developing countries, which are expected to contribute most to the increase in greenhouse gases in coming decades.
GRASS
Currently, over 2,200 CDM projects are only at the validation stage -- an initial step which involves local certification prior to official U.N.-registration -- compared to 1,047 registered projects.
According to the report, the average period between validation and registration is close to one year.
After that, another 276 days are required on average to get approval for offsets called certified emissions reductions (CERs). Only 319 projects or 10 percent of all projects in the pipeline have been issued CERs so far, the World Bank said.
Capoor said the market was a victim of its own success as capacity struggled to keep up with demand.
"The overall success has surprised many of us ... development and change are bunched up and will take time."
The hub of demand for offsets is the largest carbon market, an EU emissions trading scheme which more than doubled in value to $50 billion last year, the World Bank said.
The 27-nation bloc's flagship trading program puts a cap on industry emissions and distributes carbon credits to heavy installations like coal plants and cement factories which can then be traded amongst them.
The CDM market had been slowed by weaker than expected short-term demand from EU polluters.
In the latest energy proposals tabled by the EU Commission in January, the executive body proposed freezing offset import quotas from 2012, putting a ceiling on new demand, in the absence of a new global climate agreement next year.
The EU did not want to be the sole financier of worldwide carbon emissions cuts.
"When two elephants fight, it's the grass that gets hurt," Capoor said, alluding to the EU and the U.N.
Joint Implementation (JI), a Kyoto project-based scheme for emissions reductions from former communist countries, grew to $499 million in 2007, from $141 million in 2006, and to 41 million tonnes from 16 million tonnes.
(Reporting by Vera Eckert and Michael Szabo; Editing by Gerard Wynn)