U.S. declines to help present nuclear deal to Iran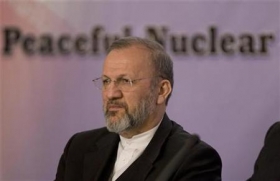 By Sue Pleming
WASHINGTON (Reuters) - World powers will in the coming days offer a revised package of incentives to Iran but Washington has refused to send its own envoy to help present the deal, diplomats and a U.S. official said on Thursday.
Diplomats said the package, aimed at getting Iran to halt its nuclear work, could be delivered on Friday or over the weekend, most likely in Tehran, by the European Union's foreign policy chief, Javier Solana.
In a change from normal protocol, political directors from France, Britain, Russia and China -- permanent members of the U.N. Security Council -- and Germany would probably go with Solana, diplomats said, speaking on condition of anonymity.
But the United States, which is involved with major powers in the negotiations, has made clear it will not join the mission to present the offer, which is expected to be given to Iranian Foreign Minister Manouchehr Mottaki.
"We are not going to be going to Tehran. But, again, we're still working out some of the details with our partners in the process," said State Department spokesman Sean McCormack, when asked whether the United States would also deliver the deal.
The other major powers have argued that sending political directors from nations that deal with the Iranian nuclear file would add weight to the offer. Usually, Solana acts as the official go-between with Tehran.
But McCormack said the United States had made it very clear it would only sit down in talks with the Iranians over their nuclear program if Tehran gave up uranium enrichment.
In Brussels, Solana's spokeswoman said she had no comment on Iran. A European Union diplomat said a "number of issues remained to be resolved" over how best to make contact with Iran.
OFFER MORE SPECIFIC
Diplomats, who refuse to release details of the package until it has been seen by the Iranians, said it was broadly based on a 2006 offer but it was more specific in terms of civilian nuclear cooperation with Tehran.
"Exploring the civilian capacity and going a little bit beyond that is the most significant thing," said one diplomat, who like all others asked not to be identified.
Another diplomat said the offer detailed what Iran would get in terms of research help and fully functioning civilian nuclear power reactors if it gave up work aimed at building an atomic weapon.
"Basically, that is everything you need to have a fully functioning state-of-the-art nuclear program but not a heavy water reactor, not enrichment (of uranium) or reprocessing plants," said the diplomat, referring to processes that could be used to build an atomic bomb.
The June 2006 offer also included wider trade in civil aircraft, energy, high technology and agriculture, if Tehran suspended enrichment and negotiated with the six powers, including the United States.
The revised offer also made clear that major powers would recognize Iran's role in the region and offered some kind of regional security cooperation, said one diplomat.
However, he said the new offer once again made clear that Iran must verifiably suspend enrichment.
"We have our red lines. They have to suspend enrichment," said the diplomat.
Iran said on Monday it would not consider any incentives that violated its right to nuclear technology, ruling out a precondition to halt atomic work the West believes is aimed at making bombs.
Iran, the world's fourth-largest oil producer, says its nuclear program is for peaceful power purposes. The enrichment process, if desired, can also be used to make material for nuclear bombs.
"If there really was good faith on the Iranians' part, would they be rejecting out of hand something they haven't seen yet?" asked McCormack.
Diplomats said a key concern was that the new offer should be made known to as many Iranians as possible and discussions were under way among major powers on how to do that.
The U.N. Security Council has already imposed sanctions on Iran three times for failing to give up enrichment.
(Additional reporting by Mark John in Brussels; Editing by Eric Beech)