Top U.N. human rights forum to examine food crisis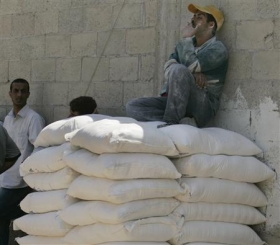 By Stephanie Nebehay
GENEVA (Reuters) - The United Nations Human Rights Council will hold a special session on May 23 to examine how the world's food crisis is undermining the right to food for millions of people, officials said on Friday.
The rights to adequate food and freedom from hunger are enshrined in international law as basic, universal human rights. The request was submitted by Cuba, Egypt and Pakistan and approved by 41 of the Council's 47 member states.
In a statement, the sponsors said that while middle-class families in the Western world spend about 20 percent of their budgets on food, for families in developing countries it can make up 60 to 80 percent of their incomes.
"This rise in the price of food, in addition to increased logistical costs linked to the price of oil, makes it difficult for the international agencies to meet the demands imposed on them, since the costs of providing food relief have considerably gone up," the sponsors said.
Protests, strikes and riots have erupted in some 40 poorer countries around the world after dramatic rises in the prices of wheat, rice, corn, oils and other essential foods.
More than 850 million people worldwide are thought to be facing acute food shortages, and another 2 billion suffering from malnutrition, which the World Health Organization has said can cause life-long health problems for children.
People in Sub-Saharan Africa and South Asia have been most strongly affected by the food price spikes that economists have linked to factors including drought, high fuel and fertilizer costs, the use of crops for biofuels, and commodity speculation.
Olivier De Schutter, the new U.N. food envoy, welcomed the decision to shine a light on the crisis which he has said amounted to a "massive violation" of human rights.
The two-year-old Council has previously convened special sessions over military and other abuses in Myanmar, Sudan's Darfur region, the Palestinian territories and elsewhere, but has not yet turned its focus specifically to economic and social rights despite pressure from developing countries to do so.
De Schutter, who has called for a freeze on new investment in biofuels, said the special session on the food crisis should help correct that imbalance and lend credibility to the body created to replace the U.N. Human Rights Commission.
"The fact that the special session is convened on a thematic issue rather than on a particular country or region highlights the fact that human rights not only should be seen as obligations imposed on states acting individually, but also are to be realized through international dialogue and cooperation," he said in a statement.
De Schutter has likened the food crisis to a "silent tsunami" and is advocating a freeze on new investment in biofuels as well as the abandonment of U.S. and European Union targets on biofuel use.
(Additional reporting by Laura MacInnis; Editing by Charles Dick)