Kashmir census shows decline in rare deer population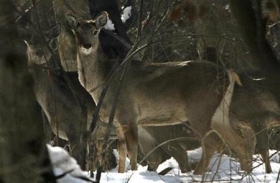 SRINAGAR, India (Reuters) - The numbers of a rare species of red deer found only in Indian Kashmir have dropped by a third in the last four years, a preliminary census revealed on Monday, highlighting the threat of poaching in the region.
The red deer known commonly as the Hangul was once the biggest draw of Dachigam, a mountainous sanctuary on the outskirts of Kashmir's summer capital, Srinagar, where they grazed in thousands decades ago.
Experts said the numbers of the majestic looking deer with a brownish coat and antlers have fallen from 228 to 160 in just four years.
There were about 900 of them in the mountains in 1989, but rampant poaching, neglect by authorities and a 17-year-old separatist rebellion in the region have taken its toll.
"Hangul is critically endangered species. There has been a steady decline in Hangul population from 2004 to 2008," a preliminary census report said.
The census was carried out in March this year by Kashmir's wildlife department and Wildlife Institute of India.
Poachers continue to kill Hanguls for their antlers, which fetch them a good price in the international black market.
"Hangul hunting continued even during militancy, as the animals come down to plains in winters," said Shameem Ahmad, who lives near Dachigam sanctuary.
"It (Hangul) assumes a great significance as the only Asiatic survivor of the red deer," the census report added.
(Reporting By Sheikh Mushtaq; Editing by Bappa Majumdar)